Performance
Specs-wise, the Xperia Z5 is a true flagship, no doubt about it. It runs on a Qualcomm MSM8994 Snapdragon 810 SoC, which is still the chip manufacturer's top offer, at least until the 820 comes along. It has more than enough power to spare, but also happens to be the exact same hardware involved in the Z3+ overheating fiasco.
Whether it was Sony's fault or a faulty chipset batch doesn't really matter, as, at the end of the day, the Z3+ did, for a fact, overheat quite badly. This bad reputation quickly started dragging down Sony mobile's fortunes and looked like a primary motivator for the quick release of the Z5 family. This did, effectively, push the flagship issue under the rug and we are also happy to report that, as expected, Sony has made sure the Z5 doesn't suffer from overheating.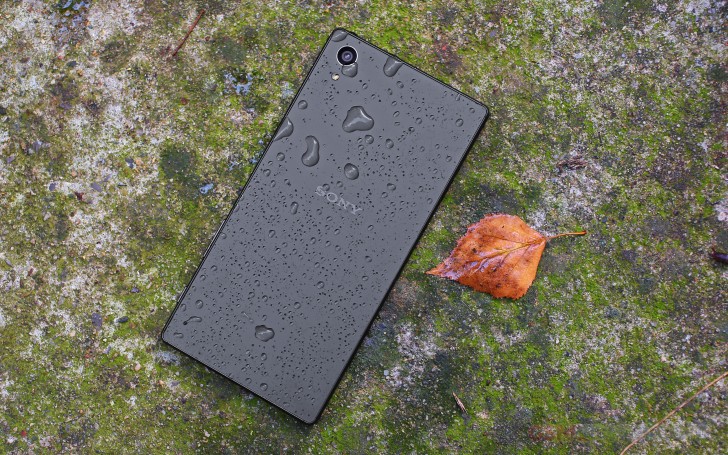 Sony has really gone the extra length to ensure the Z5 handles heat diligently by employing a dual heat-pipe cooling system and quite a bit of high-efficiency thermal paste. It definitely does a better job at pulling heat away from the chip, so, even though the Z5 and Z3+ share the same core computing silicon, the former has the added benefit of better thermal management, which is generally a major stability and performance booster. It is just like investing in a big and pricy aftermarket heat sink to replace the small OEM one on a desktop pc - quite a natural thing to do and we applaud Sony for it.
However, before we get too carried away, there is an important note to be made here. The Z5 might handle heat better than the Z3+, but it still got quite toasty during our benchmark tests. This time around, however, it is nothing to worry about and quite tolerable, so Sony did, in fact, remedy the original issues. Still, it is also worth noting that despite its small size and identical hardware, the Z5 Compact did run a little colder than its full-size sibling. That is odd, to say the least, but the Z5 did also manage to score a bit higher in CPU tests, so, perhaps, Sony is pushing it a bit harder. But, we digress.
The rest of the Z5's specs sheet seems just as worthy for a 2015 flagship. The aforementioned eight-core chip (Quad-core 1.5 GHz Cortex-A53 & Quad-core 2 GHz Cortex-A57) is backed up by an Adreno 430 GPU, 3GB of RAM and 32GB of expendable storage. The phone's price tag also puts it squarely in the high-end realm and lets it rub shoulders with most other current flagship smartphones like the Samsung Galaxy S6, the LG G4 and perhaps even the 16GB iPhone 6s, although that might be a little bit of a stretch.
We made sure to pit the Z5 against all of these phones in the benchmark comparison below and also included a few other high-end offers that come close in specs to what the Z5 has to offer, like the Xiaomi Mi 4c, HTC One M9, OnePlus 2, Meizu MX5 and others. Last, but definitely not least, we threw in a few other Xperia handsets, like the aforementioned Z5 Compact, which we recently reviewed, as well as the nicely specked mid-range Xperia M5.
First up, we have the raw CPU performance test with GeekBench 3 and this is where the eight cores get to shine. We can happily report that the Z5 is performing up to par with other Snapdragon 810 devices. It fact, Sony seem to have done a truly terrific job in utilizing the raw CPU power to the fullest extent, outshined slightly only by the OnePlus 2, which has the same chipset. The Z5 did also score a couple of hundred points more than the Compact and seeing how this is a CPU only test and the extra gig of RAM couldn't weigh in like in some other scenarios, it does seem the Z5 is staining itself a bit more.
There is an interesting observation to be made here, pertaining to the Xperia M5. Like we already mentioned, despite being a mid-range phone by design, its MediaTek Helio X10 SoC definitely holds its own and scores only a couple of hundred points below the Z5 Compact. If it is raw computational power you are after, then the latter might be a perfectly viable choice and it does come with a lower price tag than the Z5. However, the weaker GPU does take its toll in most of the other tests, so there is a definite tradeoff in making the more economical choice.
GeekBench 3
Higher is better
Samsung Galaxy S6
5215
Meizu MX5
5110
Samsung Galaxy S6 edge
5095
OnePlus 2
4429
Apple iPhone 6s
4427
Sony Xperia Z5
4017
Sony Xperia Z5 (Android 6.0.1)
4037
Sony Xperia Z5 Compact
3796
ZTE Nubia Z9
3795
HTC One M9
3761
Sony Xperia M5 Dual
3554
LG G4
3522
Sony Xperia Z3+
3402
Samsung Galaxy Note 4
3394
Xiaomi Mi 4c
3321
Motorola Nexus 6
3285
Asus Zenfone 2 ZE551ML (Z3580)
2887
Apple iPhone 6 Plus
2884
Apple iPhone 6
2835
AnTuTu is a compound benchmark, which also takes into account RAM and GPU performance. Surprisingly, the Z5 Compact blew all of the competition out of the water. It seems that Sony has invested in some quicker chips and now reaps the benefits with a whopping lead over its competitors, be it Snapdragon 810-based or not, including the Z5.
Taking the smaller screen resolution into account, as expected, it actually turned out that the Compact is comes out on top and outscores the full size Z5, as far as synthetic benchmarks are concerned.
AnTuTu 5
Higher is better
Samsung Galaxy S6 edge
70053
Samsung Galaxy S6
69396
Sony Xperia Z5 Compact
61481
Apple iPhone 6s
59074
ZTE Nubia Z9
54705
HTC One M9
51427
Xiaomi Mi 4c
50875
Sony Xperia Z5
50611
Motorola Nexus 6
49803
Sony Xperia Z3+
49441
Samsung Galaxy Note 4
49273
Meizu MX5
48915
LG G4
48693
Asus Zenfone 2 ZE551ML (Z3580)
47254
OnePlus 2
47207
Apple iPhone 6
45545
Sony Xperia M5 Dual
38786
Basemark OS II is another all-round benchmark. It gives an overall score along with single, multi-core performance, math performance and more. One again, the Z5 really shines, especially in the single-core department. It actually leaves behind all of its Snapdragon 810-powered rival in the overall score, which is impressive. Multi-tasking, however, seems to be a bit lacking, which was also the case with the Z5 Compact. However, it is nothing serious, nor is translatable to real life performance. Our experience with the unit showed fluent performance with even the most liberal usage pattern.
Basemark OS II
Higher is better
OnePlus 2
1942
Samsung Galaxy S6 edge
1826
Sony Xperia Z5
1825
Samsung Galaxy S6
1769
Sony Xperia Z5 Compact
1696
HTC One M9
1526
Motorola Nexus 6
1509
Xiaomi Mi 4c
1464
Sony Xperia Z3+
1410
Samsung Galaxy Note 4
1332
Apple iPhone 6 Plus
1222
Meizu MX5
1163
Huawei Honor 7
1038
Sony Xperia M5 Dual
804
Basemark OS II (single-core)
Higher is better
Apple iPhone 6 Plus
4031
Samsung Galaxy S6
3497
Samsung Galaxy S6 edge
3372
Sony Xperia Z5
3089
Sony Xperia Z5 Compact
3085
Xiaomi Mi 4c
2708
Samsung Galaxy Note 4
2574
HTC One M9
2401
Huawei Honor 7
2251
OnePlus 2
2047
Motorola Nexus 6
1967
Meizu MX5
1957
Sony Xperia M5 Dual
1538
Sony Xperia Z3+
1453
Basemark OS II (multi-core)
Higher is better
Samsung Galaxy S6
16986
Samsung Galaxy S6 edge
16856
Meizu MX5
16485
Huawei Honor 7
13708
OnePlus 2
10799
HTC One M9
10128
Sony Xperia Z5 Compact
9994
Motorola Nexus 6
9915
Apple iPhone 6 Plus
9604
Samsung Galaxy Note 4
9198
Sony Xperia Z5
8148
Xiaomi Mi 4c
7366
Sony Xperia Z3+
6995
Sony Xperia M5 Dual
6168
Moving on to pure graphics tests and namely GFX Bench. The Adreno 430 GPU inside the Snapdragon 810 chip is pretty powerful and offers nice graphics performance. The Z5 is more than capable of handling even the most demanding Android game, as you would expect form a flagship device.
As you might remember, the hardware platform in question is actually shared across the whole Z5 family, which means that the smaller Z5 Compact also has the Adreno 430 at its disposal. This, combined with a 720p resolution display allows it to achieve amazing scores, even with the new Open GL ES 3.1. The Z5, with its FullHD display is a lot more modest in on-screen frame rates, but still holds its own. As for offscreen rendering, results are comparable, as expected.
GFX 2.7 T-Rex (1080p offscreen)
Higher is better
Apple iPhone 6s
79.8
Samsung Galaxy S6
59
Samsung Galaxy S6 edge
59
ZTE Nubia Z9
58
Sony Xperia Z5 Compact
56
Sony Xperia Z3+
50
Sony Xperia Z5
49
HTC One M9
49
OnePlus 2
48
Apple iPhone 6 Plus
44.6
Samsung Galaxy Note 4
40
Motorola Nexus 6
38.9
Xiaomi Mi 4c
35
LG G4
34
Meizu MX5
27
Sony Xperia M5 Dual
23
Huawei Honor 7
17
GFX 2.7 T-Rex (onscreen)
Higher is better
Apple iPhone 6s
59.6
Sony Xperia Z5 Compact
57
ZTE Nubia Z9
51
HTC One M9
50
Sony Xperia Z5
49
OnePlus 2
46.7
Sony Xperia Z3+
46
Samsung Galaxy S6 edge
39
Samsung Galaxy S6
38
Xiaomi Mi 4c
35
Motorola Nexus 6
27.4
Meizu MX5
27
Samsung Galaxy Note 4
26
LG G4
25
Sony Xperia M5 Dual
24
Huawei Honor 7
19
GFX 3.0 Manhattan (1080p offscreen)
Higher is better
Apple iPhone 6s
39.5
ZTE Nubia Z9
27
Samsung Galaxy S6 edge
26
Sony Xperia Z5 Compact
25
Samsung Galaxy S6
24
Sony Xperia Z5
24
Sony Xperia Z5 (Android 6.0.1)
28
HTC One M9
23
OnePlus 2
22
Sony Xperia Z3+
21
Apple iPhone 6 Plus
18.6
Motorola Nexus 6
18.6
Samsung Galaxy Note 4
18
LG G4
15
Xiaomi Mi 4c
15
Meizu MX5
10
Huawei Honor 7
9.2
Sony Xperia M5 Dual
8.4
GFX 3.0 Manhattan (onscreen)
Higher is better
Apple iPhone 6s
53.6
Sony Xperia Z5 Compact
39
ZTE Nubia Z9
26
Sony Xperia Z5
25
Sony Xperia Z5 (Android 6.0.1)
29
HTC One M9
24
OnePlus 2
22
Sony Xperia Z3+
21
Xiaomi Mi 4c
15
Samsung Galaxy S6 edge
15
Samsung Galaxy S6
14
Motorola Nexus 6
11.9
Samsung Galaxy Note 4
11
Meizu MX5
9.5
LG G4
9.4
Huawei Honor 7
9.3
Sony Xperia M5 Dual
8.7
GFX 3.1 Manhattan (1080p offscreen)
Higher is better
ZTE Nubia Z9
19
Sony Xperia Z5 Compact
18
Sony Xperia Z5
18
Sony Xperia Z5 (Android 6.0.1)
19
OnePlus 2
16
Sony Xperia Z3+
16
Xiaomi Mi 4c
10
LG G4
9.9
Huawei Honor 7
4.9
Meizu MX5
4.8
Sony Xperia M5 Dual
4.5
GFX 3.1 Manhattan (onscreen)
Higher is better
Sony Xperia Z5 Compact
38
Sony Xperia Z5
19
Sony Xperia Z5 (Android 6.0.1)
19
ZTE Nubia Z9
19
Sony Xperia Z3+
17
OnePlus 2
16
Xiaomi Mi 4c
9.7
LG G4
5.6
Huawei Honor 7
5.2
Sony Xperia M5 Dual
4.9
Meizu MX5
4.7
In terms of browsing, the Xperia Z5 offers a splendid online experience. BrowserMark definitely backs up our statement, but the all JavaScript Kraken benchmark isn't quite so favorable. Naturally, we would be quick to point a finger at the built-in browser, but in the case of Sony, that is Chrome, so other forces must be at play here.
Kraken 1.1
Lower is better
Apple iPhone 6s
1737
Apple iPhone 6
2880
Samsung Galaxy S6 edge
3989
Samsung Galaxy S6
4154
Xiaomi Mi 4c
4506
LG G4
4639
Apple iPhone 6 Plus
4650
Samsung Galaxy Note 4
5181
Asus Zenfone 2 ZE551ML (Z3580)
5232
HTC One M9
5500
Sony Xperia Z5
5635
Motorola Nexus 6
6088
OnePlus 2
6808
Sony Xperia Z5 Compact
7868
Sony Xperia Z3+
9204
Meizu MX5
11414
Huawei Honor 7
11493
ZTE Nubia Z9
20208
Sony Xperia M5 Dual
25088
BrowserMark 2.1
Higher is better
Apple iPhone 6 Plus
3389
Samsung Galaxy S6
2718
Samsung Galaxy S6 edge
2702
Sony Xperia Z5
2303
Samsung Galaxy Note 4
2232
Xiaomi Mi 4c
2113
Sony Xperia Z5 Compact
2099
OnePlus 2
2055
LG G4
1992
HTC One M9
1681
Meizu MX5
1471
Motorola Nexus 6
1447
Sony Xperia Z3+
1436
Sony Xperia M5 Dual
1203
ZTE Nubia Z9
887
Huawei Honor 7
825
Overall, the Xperia Z5 is a true powerhouse and a worthy flagship in any sense of the word. Also, it is really encouraging to see that Sony worked hard and remedied the overheating issue. It might not be a perfect fix, but is definitely a lot better than the easier alternatives, like simply going with another chip and sweeping the Z3+/Z4 under the rug - a respectable decision indeed.
As for the other elephant in the room - Z5 or Z3+ - performance isn't really all that different and perhaps shouldn't serve as an incentive in itself to shell out the extra money. However, if you find yourself drawn to some of the Z5's other features, like the camera or fingerprint reader, then the steeper price might well be justified, but it is worth noting that either way, you will be getting a pretty powerful device.