The overachiever
Sony Xperia Z5 Compact review: The overachiever
Benchmarks
Don't get fooled by the Z5 Compact's small size. It might be compact, but it is part of the prestigious "Z" family nonetheless. Consequently, it packs some beastly silicon under the hood, namely, the Qualcomm MSM8994 Snapdragon 810, backed up with 2GB of RAM. That means a total of eight cores, four Cortex-A53 units clocked at 1.5 GHz and the other four Cortex-A57 at 2.0 GHz. Graphics are also well taken care of by the Adreno 430. Furthermore, given its native resolution of only 720p, the Z5 Compact should offer some serious pixel-pushing power.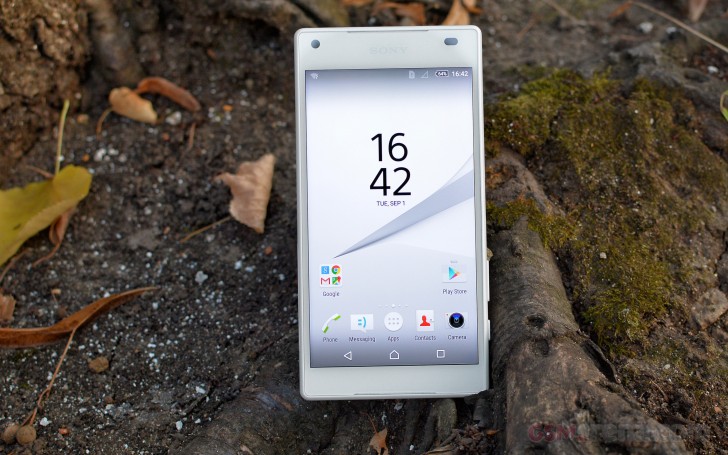 Like we already mentioned, the Z5 Compact is more or less in a league of its own. Digging through the phone finder we were really hard-pressed to find many other offers with such powerful hardware and a display smaller than 5.0 inches. Of course, we can't fail to mention the iPhone 6 and 6s but if you are looking for a good Android phone that doesn't adhere to today's huge-display fads, you aren't exactly spoiled for choice.
In fact, it seems that Sony currently has somewhat of a monopoly on the niche, as the closest viable candidates we could find include the Xperia Z3 Compact, which we already mentioned on several occasions and, interestingly enough, the new Xperia M5. Don't be fooled by the latter's "M"-line affiliation. The M5 is actually more of a toned-down flagship than anything else and runs on the impressive MediaTek Helio X10. However, Sony is still having some issues with this new MediaTek adoption and the Xperia M5 seems to have a lot of untapped potential.
Other candidates we picked out with roughly the same screen real estate include two offers by Huawei - the P8 lite and the Honor 6, as well as another two by Xiaomi - the Mi 4 and Mi 4c. However, they aren't nearly as powerful as the Z5 Compact, at least on paper that is.
Just to give you a proper perspective on how well the Z5 Compact is utilizing its Snapdragon 810 SoC, we decided to pit it against a few other popular devices that use the same silicon, despite generally being quite a bit larger. These include the HTC One M9, ZTE Nubia Z9, LG G Flex 2 and the OnePlus 2. We also threw in some closely equipped candidates, like the LG G4 and the Lenovo Vibe X2.
Last, but not least, the Z5 Compact does cost a pretty penny, so we decided to compare it with other devices you can pick up at a similar price point. It so happens that the Galaxy S5 meets the bill, so do the Nexus 6, Asus Zenfone 2 and surprisingly enough, even the new Moto X Pure Edition.
First up, we have the raw CPU performance test with GeekBench 3 and this is where the eight cores really get to shine. We can happily report that the Z5 Compact is performing up to par with other Snapdragon 810 devices. It fact, Sony seem to have done a truly terrific job in utilizing the raw CPU power to the fullest extent. The bigger Z5 does squeeze a little more power out of the chip, but it's not a major difference.
There is an interesting observation to be made here, pertaining to the Xperia M5. Like we already mentioned, despite being a mid-range phone by design, its MediaTek Helio X10 SoC definitely holds its own and scores only a couple of hundred points below the Z5 Compact. If it is raw computational power you are after, then the latter might be a perfectly viable choice and it does come with a lower price tag than the Z5 Compact. However, the weaker GPU does take its toll in most of the other tests, so there is a definite tradeoff in making the more economical choice.
GeekBench 3
Higher is better
OnePlus 2
4429
Sony Xperia Z5
4017
Sony Xperia Z5 Compact
3796
ZTE Nubia Z9
3795
HTC One M9
3761
Lenovo Vibe X2
3647
LG G Flex2
3604
Sony Xperia M5 Dual
3554
LG G4
3522
Moto X Pure Edition
3433
Motorola Nexus 6
3285
Xiaomi Mi 4
3175
Samsung Galaxy S5
3120
Huawei Honor 6
3081
Sony Xperia Z3 Compact
2856
Huawei P8lite
2813
AnTuTu is a compound benchmark, which also takes into account RAM and GPU performance. Surprisingly, the Z5 Compact blew all of the competition out of the water. It seems that Sony has invested in some quicker chips and now reaps the benefits with a whopping lead over its competitors, be it Snapdragon 810-based or not.
We did also manage to run Antutu on our pre-production Xperia Z5 unit to see how well the Z5 Compact compares to its bigger brother. Taking the smaller screen resolution into account, as expected, it actually turned out that the Compact is comes out on top, as far as synthetic benchmarks are concerned.
Also, the aforementioned difference between the Z5 Compact and M5 is a lot more obvious this time around. The Z5 Compact is a true flagship, no doubt about it.
AnTuTu 5
Higher is better
Sony Xperia Z5 Compact
61481
ZTE Nubia Z9
54705
HTC One M9
51427
Moto X Pure Edition
50629
Sony Xperia Z5
50611
Motorola Nexus 6
49803
LG G4
48693
LG G Flex2
47680
OnePlus 2
47207
Lenovo Vibe X2
46666
Sony Xperia Z3 Compact
46566
Samsung Galaxy S5
45348
Huawei Honor 6
42688
Sony Xperia M5 Dual
38786
Huawei P8lite
35205
Basemark OS II is another all-round benchmark. It gives an overall score along with single, multi-core performance, math performance and more. Once again, the Z5 Compact really shines, especially in the single-core department. Multi-tasking, however, seems to be a bit lacking, but it is nothing serious, nor is translatable to real life performance. Our experience with the unit showed fluent performance with even the most liberal usage pattern.
Basemark OS II
Higher is better
Moto X Pure Edition
2016
OnePlus 2
1942
Sony Xperia Z5
1825
Sony Xperia Z5 Compact
1696
LG G Flex2
1601
HTC One M9
1526
Motorola Nexus 6
1509
Xiaomi Mi 4
1324
Sony Xperia Z3 Compact
1167
Samsung Galaxy S5
1147
Lenovo Vibe X2
930
Huawei Honor 6
863
Sony Xperia M5 Dual
804
Huawei P8lite
600
Basemark OS II (single-core)
Higher is better
Sony Xperia Z5
3089
Sony Xperia Z5 Compact
3085
Xiaomi Mi 4
2573
Lenovo Vibe X2
2571
LG G Flex2
2528
Samsung Galaxy S5
2510
Moto X Pure Edition
2508
HTC One M9
2401
Sony Xperia Z3 Compact
2282
Huawei Honor 6
2279
OnePlus 2
2047
Motorola Nexus 6
1967
Sony Xperia M5 Dual
1538
Huawei P8lite
1443
Basemark OS II (multi-core)
Higher is better
Lenovo Vibe X2
13999
Huawei Honor 6
13916
Huawei P8lite
11873
OnePlus 2
10799
HTC One M9
10128
Sony Xperia Z3 Compact
10063
Sony Xperia Z5 Compact
9994
Motorola Nexus 6
9915
LG G Flex2
9758
Samsung Galaxy S5
9646
Xiaomi Mi 4
9508
Moto X Pure Edition
9132
Sony Xperia Z5
8148
Sony Xperia M5 Dual
6168
Moving on to pure graphics tests and namely GFX Bench. Despite its slam size, the Z5 Compact packs the very same Snapdragon 810 chip its bigger sibling has and it performs accordingly. As anticipated, the phone simply breezes through the graphics test thanks to the powerful Adreno 430 GPU. This is especially true in the on-screen tests, where the lower HD resolution puts a lot less strain on the chipset and allows for a lot higher frame rates.
This is especially evident in the Open GL ES 3.1 test, which generally produces frame rates that are barely usable for practical purposes, such as gaming. However, with a 720p resolution things look quite different and the Z5 Compact seems to be more than happy to facilitate this new age of mobile graphics. However, the question of how enjoyable said games would be on a 4.6 inch screen is still open for debate.
GFX 2.7 T-Rex (1080p offscreen)
Higher is better
ZTE Nubia Z9
58
Sony Xperia Z5 Compact
56
Sony Xperia Z5
49
HTC One M9
49
LG G Flex2
49
OnePlus 2
48
Motorola Nexus 6
38.9
Moto X Pure Edition
34
LG G4
34
Xiaomi Mi 4
27.6
Sony Xperia Z3 Compact
27.4
Samsung Galaxy S5
27
Sony Xperia M5 Dual
23
Lenovo Vibe X2
17.8
Huawei Honor 6
16
Huawei P8lite
10
GFX 2.7 T-Rex (onscreen)
Higher is better
Sony Xperia Z5 Compact
57
ZTE Nubia Z9
51
HTC One M9
50
Sony Xperia Z5
49
LG G Flex2
48
OnePlus 2
46.7
Sony Xperia Z3 Compact
41.3
Xiaomi Mi 4
28.2
Samsung Galaxy S5
28
Motorola Nexus 6
27.4
LG G4
25
Sony Xperia M5 Dual
24
Moto X Pure Edition
24
Huawei Honor 6
17
Lenovo Vibe X2
17
Huawei P8lite
16
GFX 3.0 Manhattan (1080p offscreen)
Higher is better
ZTE Nubia Z9
27
Sony Xperia Z5 Compact
25
Sony Xperia Z5
24
HTC One M9
23
OnePlus 2
22
LG G Flex2
22
Motorola Nexus 6
18.6
LG G4
15
Moto X Pure Edition
15
Samsung Galaxy S5
12
Sony Xperia Z3 Compact
11.8
Xiaomi Mi 4
11.6
Sony Xperia M5 Dual
8.4
Huawei Honor 6
8.1
Lenovo Vibe X2
6.1
GFX 3.0 Manhattan (onscreen)
Higher is better
Sony Xperia Z5 Compact
39
ZTE Nubia Z9
26
Sony Xperia Z3 Compact
25.4
Sony Xperia Z5
25
HTC One M9
24
OnePlus 2
22
LG G Flex2
22
Samsung Galaxy S5
12
Motorola Nexus 6
11.9
Xiaomi Mi 4
11.3
LG G4
9.4
Moto X Pure Edition
9.3
Sony Xperia M5 Dual
8.7
Huawei Honor 6
8.7
Lenovo Vibe X2
6.1
GFX 3.1 Manhattan (1080p offscreen)
Higher is better
ZTE Nubia Z9
19
Sony Xperia Z5 Compact
18
Sony Xperia Z5
18
OnePlus 2
16
Moto X Pure Edition
10
LG G4
9.9
Sony Xperia M5 Dual
4.5
GFX 3.1 Manhattan (onscreen)
Higher is better
Sony Xperia Z5 Compact
38
Sony Xperia Z5
19
ZTE Nubia Z9
19
OnePlus 2
16
LG G4
5.6
Moto X Pure Edition
5.6
Sony Xperia M5 Dual
4.9
In terms of browsing, the Z5 Compact offers a splendid experience, again while keeping the limitations of the 4.6-inch display in mind. BrowserMark definitely backs up our statement, but the all JavaScript Kraken benchmark isn't quite so favorable. Naturally, we would be quick to point a finger at the built-in browser, but in the case of Sony, that is Chrome, so other forces must be at play here.
Kraken 1.1
Lower is better
LG G Flex2
4621
LG G4
4639
Lenovo Vibe X2
4747
HTC One M9
5500
Sony Xperia Z5
5635
Samsung Galaxy S5
5968
Motorola Nexus 6
6088
Xiaomi Mi 4
6137
Sony Xperia Z3 Compact
6480
OnePlus 2
6808
Moto X Pure Edition
6910
Huawei Honor 6
6937
Sony Xperia Z5 Compact
7868
Huawei P8lite
16743
ZTE Nubia Z9
20208
Sony Xperia M5 Dual
25088
BrowserMark 2.1
Higher is better
Sony Xperia Z5
2303
Lenovo Vibe X2
2211
Moto X Pure Edition
2132
Sony Xperia Z5 Compact
2099
LG G Flex2
2086
Samsung Galaxy S5
2066
OnePlus 2
2055
LG G4
1992
HTC One M9
1681
Sony Xperia Z3 Compact
1500
Motorola Nexus 6
1447
Sony Xperia M5 Dual
1203
Huawei P8lite
981
ZTE Nubia Z9
887
Huawei Honor 6
745
Xiaomi Mi 4
744
Overall, the Xperia Z5 Compact is a true powerhouse and a worthy flagship in any sense of the word. Sony has kept to its original promise for a compact unit without the need for performance compromises. This all makes the Z5 Compact an excellent device worthy to fill the shoes of the Z3 Compact, but price might be a major factor in the process.
While undoubtedly superior to its predecessor, the Z5 Compact does cost a pretty penny. The Z3 Compact, on the other hand, is still alive and kicking, enjoying enormous popularity among fans and not really that far-behind in terms of technology, specs or performance. The real question is whether the newer one can present enough of an incentive to upgrade, especially for about €150 more.