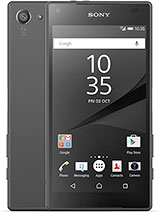 A798
really great phone. I wish samsung and other manufactures could follow SONY and make small sized flagships.
but overall dimensions are still very big for a compact phone. Samsung s4 mini and iphone 5s have the best size to be called "compact phones" untill now.
Apple can see this and will produce a compact iphone 6s. But Samsung and others are blind to see this and cover the market gap.
Total of 1143 user reviews and opinions for Sony Xperia Z5 Compact.