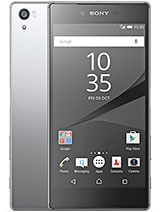 ?
Sony is kicking so hard !
But I don't know why the Quad-Core CPU ? Other lower-specs phones have Octa-Core CPU besides 2 GB RAM !! i.e. Lenovo A7000 !
Does Sony depend on the 3 GB RAM ?
R
awesome..........
next is this.........................
he is my favrt................

n
Anonymous, 03 Sep 2015why didnt sony go with a snapdragon 820 processor because it heat so much
D
Im a Xperia Z1, Z3 and Z Ultra user before.
But eversince they updated to lollipop version, Im very disappointed the way the messaging application looks like, the spaces between messages are very broad.
So, I switch to Samsung Galaxy A8, no regrets.

Just a user review.
Thanks.
r
is this phone has triluminos display and xreality engine ??
well Done ..sony
Total of 674 user reviews and opinions for Sony Xperia Z5 Premium Dual.