Sony Xperia Z Ultra hands-on
The Sony Xperia Z Ultra is a fairly large phablet - it's about halfway between a Note II and a Nexus 7. It's a matter of perspective really. One thing it is not is a phone - it has full telephony functionality (HD Voice even), but it's not a comfortable device to hold up to your ear for long voice calls. Luckily there are plenty of hands-free sets that you can use for that, include the just launched Sony SBH52.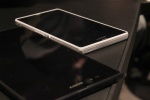 The Xperia Ultra next to the Xperia Z • Beautiful metal sides and OmniBalance Power/Lock button
And the Sony Xperia Z Ultra really excels for the remaining 95% of the time - browsing, watching videos, gaming, messaging and everything else.
We're glad to see Sony's OmniBalance design again. We loved it on the Xperia Z and the Xperia Tablet Z and we love it here. The sizable Z Ultra phablet has even improved on the already great looking tablet with a brushed aluminum frame running along its sides to give it stability and tempered glass on the back and on the front.





Size comparison of the Z family: Xperia Z, Z Ultra, Tablet Z • Size comparison with Nexus 7
Unfortunately, you have to wipe the front and back quite often to keep the Sony Xperia Z Ultra looking good as all that glass is a real fingerprint magnet.





The Sony Xperia Ultra is a fingerprint magnet
The 6.5mm of thickness is quite stunning. The angular sides don't make the Xperia Z Ultra the most comfortable device to hold in one hand, but for two handed operation the slim chassis feels really impressive. It's not too heavy either - 212g is certainly a burden you will feel in your pocket, but it's barely any heavier than the Samsung Galaxy Mega 6.3 and that is all plastic, no metal, no glass.
It's not that hard to slip the Xperia Z Ultra into your pocket (well, certainly not every pocket) but we're not sure how we'll feel after a whole day.
Anyway, it's quite worth it - the 6.4" display has 1080p resolution and 344ppi pixel density, meaning it's as sharp as last year's flagships and the iPhone 5, a bit more even. And we're pleased to report that the screen has better viewing angles than the Xperia Z screen. There's still some color shift and contrast degradation, but it's nowhere near as bad.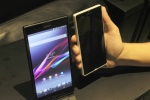 Sony Xperia Z Ultra's massive 6.4" 1080p display
It's a Triluminos display, too, which explains the beautiful colors. Sony says the Xperia Z Ultra display has wider color gamut than regular LCDs and it's easy to see that colors look better than they did on the Xperia Z.
There's X-Reality image processor (the BRAVIA engine successor), which will intelligently enhance contrast, add saturation, reduce noise and the Super Resolution will make sure very video makes full use of the 1080p resolution of the screen.
The OptiContrast design means the display is laminated to the glass to reduce optical flare, but unfortunately it's much too dark in the showroom to tell the difference.