A tale of two screens
Sony Xperia Z vs. HTC Butterfly: A tale of two screens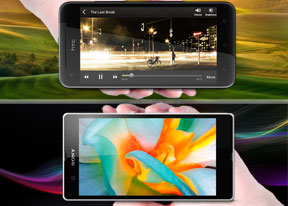 Introduction
Flagships have evolved significantly during the past year, and in screen terms in particular, what once looked like overkill has become the gold standard for both size and resolution. HTC was the first of the major manufacturers to set the bar high with a fullHD five-incher, and saw the competition scrambling to respond. The Sony Xperia Z wasn't too late to follow, and turned some heads with its sharp design, coupling professional elegance with great performance.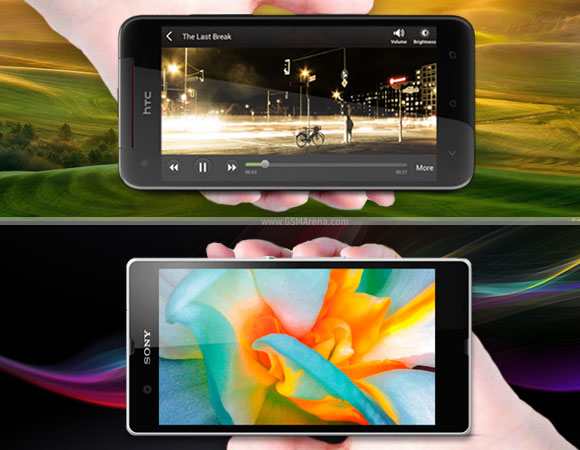 While the HTC Butterfly is no longer in charge of the HTC Android lineup (that honor belongs to the just-announced HTC One), it still is an impressive device in its own right. It debuted back in October as J Butterfly for Japan and visited the US in November as the DROID DNA.
The Butterfly/DNA's spell alone at the top wasn't long enough to make a huge difference, financially. That's largely down to its limited availability too. Even now, the HTC Butterfly is hard to come by in many markets, which is the exact opposite of what Sony's doing with the Z.
So, the Xperia Z is an all-round flagship, while the HTC Butterfly has just slipped down the pecking order. One is readily available and enjoying high demand, the other is a regional version that some markets just won't get. But we don't care which one's better at making money. We've got some quad-core Kraits to benchmark, screens to compare, and batteries to test. So, who's up for a ride?
As usual, let's start by taking a look at what advantages each device has over the other.
Sony Xperia Z over HTC Butterfly
IP57 dust and water protection
Higher-capacity battery
Higher-resolution camera sensor with better image quality
Wider market availability
HTC Butterfly over Sony Xperia Z
Curved screen for better usability
Display has superior contrast and viewing angles
Can shoot 6MP stills while recording video
Beats audio amplifier
In terms of sheer specs, the two devices are very similar. In addition to the same screen size and resolution, both phones are powered by a quad-core 1.5 GHz Krait CPU running on the Qualcomm APQ8064 chipset, alongside Adreno 320 graphics. All of the connectivity features are doubled between the two devices, and with the exception of the higher-res camera sensor and battery on the Xperia Z, so is everything else - all the way down to the Android release.




HTC Butterfly and Sony Xperia Z live images
In the coming chapters we'll break down how each device performs and where one has an advantage over the other, in areas such as camera performance, sound quality, and benchmarks. But first, let's take a closer look at the exterior.
T
Pls I need to no more about Sony Xperia z camera
s
Completely Disagree with u.....
r
Ive been using the Xperia Z for 7 months now, nd I haven't been let down by sony. It was the first flagship having water resistance. There may be since issues with the viewing angles but otherwise it is a great phone to invest in if you're looking ...