A tale of two screens
Sony Xperia Z vs. HTC Butterfly: A tale of two screens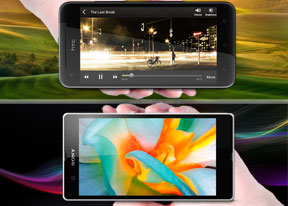 Display comparison
There are two major things to consider when you rate a phone's screen quality: how well you can see what's on the display and how good it looks.
One thing that becomes immediately apparent at first glance is the superiority of the image seen on the Butterfly. As we've seen before across numerous Xperia's dating all the way back to Sony Ericsson, the screens tend to have pretty poor viewing angles, but this time Sony didn't get the contrast right either.



The HTC Butterfly and Sony Xperia Z displays
The Butterfly has a Super LCD3 screen and the Xperia Z has a TFT screen with the Mobile Bravia Engine 2, both of full HD (1080 x 1920) resolution. They are both laid out in a full RGB stripe.
While both displays are of the LCD variety, the Xperia Z performed markedly worse compared not only to the Butterfly, but to other displays as well. While neither device can compare to the deep blacks of AMOLEDs, the Butterfly does well with a rating of 0.45 cd/m2, against the poor 0.70 cd/m2 for the Xperia Z.
When it comes to contrast ratio, anything above 1000 is usually good enough unless you're in a very dark environment. Things are once again bad for the Xperia Z here with a score of 705, while the 1104 put up by the HTC Butterfly is notably superior. The superior contrast is also garnished with livelier colors, so everything comes punchier on the Butterfly screen than on the Xperia Z display.
Display test
50% brightness
100% brightness
Black, cd/m2
White, cd/m2
Contrast ratio
Black, cd/m2
White, cd/m2
Contrast ratio
HTC Butterfly
0.14
173
1200
0.45
501
1104
Sony Xperia Z
-
-
-
0.70
492
705
Oppo Find 5
0.17
176
1123
0.51
565
1107
Sony Xperia S
-
-
-
0.48
495
1038
Samsung I9300 Galaxy S III
0
174
∞
0
330
∞
HTC One X
0.15
200
1375
0.39
550
1410
Nokia Lumia 920
-
-
-
0.48
513
1065
Nexus 4
0.22
314
1447
0.45
608
1341
LG Optimus G
0.14
197
1445
0.33
417
1438
Apple iPhone 5
0.13
200
1490
0.48
640
1320
One other factor that comes into the picture in regards to contrast ratio is screen reflectivity. The Butterfly's Gorilla Glass 2 screen is made of a more reflective material than what the Xperia Z uses, which means that regardless of its inferior contrast, the Sony screen does better outdoors.
Sunlight contrast ratio
Nokia 808 PureView
4.698
Samsung I9300 Galaxy S III
3.419
Samsung Omnia W
3.301
Samsung Galaxy S
3.155
Nokia N9
3.069
Samsung Galaxy Note
2.970
HTC One S
2.901
Samsung Galaxy S II
2.832
Samsung Galaxy S II Plus
2.801
Huawei Ascend P1
2.655
Nokia Lumia 900
2.562
Sony Xperia Z
2.462
Samsung Galaxy S III mini
2.422
Motorola RAZR i
2.366
Apple iPhone 4S
2.269
HTC One X
2.158
Nokia N8
2.144
Oppo Find 5
2.088
BlackBerry Z10
2.051
Apple iPhone 4
2.016
Sony Ericsson Xperia ray
1.955
Samsung Galaxy Camera
1.938
HTC Butterfly
1.873
Sony Xperia V
1.792
Sony Xperia U
1.758
LG Optimus 4X HD
1.691
HTC One V
1.685
LG Optimus Vu
1.680
HTC Desire V
1.646
LG Optimus 3D
1.542
Nokia Asha 302
1.537
Nokia Lumia 610
1.432
Gigabyte GSmart G1355
1.361
HTC Desire C
1.300
LG Optimus L7
1.269
LG Optimus L9
1.227
Meizu MX
1.221
Sony Xperia E dual
1.203
Samsung Galaxy Pocket
1.180
Sony Xperia tipo
1.166
Samsung Galaxy mini 2
1.114
As far as display sharpness goes, both devices have screens of equal size and resolution, with pixels arranged more or less in the same way and both resulting in a pixel density of 441 ppi.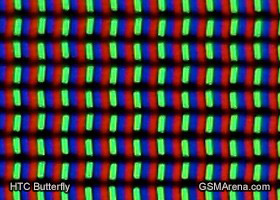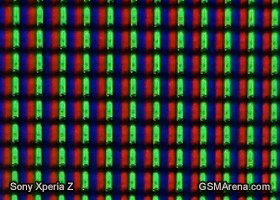 Winner: HTC Butterfly. The Xperia Z display is a distant second when it comes to viewing and contrast - it's even worse than most of the 720p we have seen in those two aspects. Two weak points are way too many for a flagship screen and the slightly superior sunlight legibility doesn't even come close to making up for that.
Battery life test
The HTC Butterfly features a 2020 mAh Lithium Polymer battery, while the Sony Xperia Z has a 2330 mAh battery of the Lithium Ion variety. While at first instinct it is tempting to assume that the higher capacity will result in longer life, it's not simply question of numbers, as our tests will show.
A quick side note first. The Butterfly uses a Li-Po battery, which supposedly will last more charge cycles than the standard Li-Ion found in the Xperia Z. That's good to know, because putting a fresh battery in either device is no easy task and will probably require a visit to a service center.
Voice calls are just one of the many features of a modern smartphone, but still an important one. The Sony Xperia Z posts one of the best times we've seen - a whopping 16 hours of talk time before the battery runs dry. The Butterfly did pretty well with over 12 hours of continuous talking before running out of juice, but that's only good enough to second place here.
Talk time
Motorola RAZR MAXX (ICS)
21:18
Motorola DROID RAZR MAXX
20:24
Motorola RAZR i
20:07
Samsung Galaxy Note II N7100
16:57
Sony Xperia Z
16:03
LG Optimus G
15:30
Google Nexus 4
14:17
HTC One X+
13:31
Huawei Ascend P1
12:30
HTC Butterfly
12:18
Samsung Galaxy Note
12:14
Samsung I8530 Galaxy Beam
11:58
Samsung Galaxy Premier
11:30
HTC Droid DNA
11:07
HTC Windows Phone 8X
11:07
Samsung Wave 3 S8600
11:07
HTC Desire X
11:03
HTC One X (AT&T, LTE)
10:35
Samsung I9300 Galaxy S III
10:20
Samsung I9300 Galaxy S III (JB)
10:15
HTC One V
10:00
Meizu MX 4-core
10:00
HTC One X
9:57
HTC One S
9:42
Samsung I9103 Galaxy R
9:40
HTC Sensation XL
9:30
Nokia Lumia 810
9:05
Nokia Lumia 710
9:05
Acer CloudMobile S500
9:05
Motorola Atrix HD
9:04
HTC Vivid
9:02
Nokia Lumia 920
8:56
HTC Rhyme
8:48
Apple iPhone 5
8:42
LG Optimus 3D Max P720
8:42
Sony Ericsson Xperia neo V
8:41
Meizu MX
8:39
Samsung Galaxy S II
8:35
Samsung Galaxy S Duos
8:28
Nokia Lumia 800
8:25
Samsung Galaxy Nexus
8:23
HTC Desire V
8:20
Samsung Captivate Glide
8:20
Sony Xperia T
8:15
HTC Rezound (LTE)
8:10
Samsung Galaxy Note (LTE)
8:02
LG Optimus Vu
7:57
LG Optimus 4X HD
7:41
Apple iPhone 4S
7:41
Samsung i937 Focus S
7:25
HTC Evo 4G LTE (LTE)
7:21
Samsung Galaxy S Blaze 4G
7:14
Nokia Lumia 820
7:09
Sony Xperia acro S
7:09
Samsung Rugby Smart I847
7:09
Sony Ericsson Xperia Pro
6:57
Nokia N9
6:57
HTC Radar
6:53
Samsung Galaxy Ace Duos
6:53
BlackBerry Curve 9380
6:52
Samsung Galaxy S III mini
6:22
Samsung Galaxy Pocket
5:54
Nokia Lumia 900 for AT&T (LTE)
5:53
Sony Xperia ion LTE
5:52
Sony Xperia P
5:33
Nokia 808 PureView
5:16
LG Nitro HD (LTE)
5:16
HTC Titan II (LTE)
5:10
BlackBerry Bold 9790
5:00
Pantech Burst
4:46
In our web browsing test, both devices came in about even at around 6 and a half hours. Those aren't scores to brag about, but the large high-res screens certainly take their toll on the battery.
Web browsing
Apple iPhone 5
9:56
Motorola RAZR MAXX (ICS)
9:12
Apple iPad mini
9:05
Samsung Galaxy Note II N7100
8:48
Nokia Lumia 810
8:20
HTC One X+
7:56
Samsung Galaxy S III mini
7:38
Motorola DROID RAZR MAXX
7:23
HTC Radar
7:17
Motorola RAZR i
7:06
Apple iPhone 4S
6:56
HTC One V
6:49
HTC Droid DNA
6:40
Samsung Galaxy Premier
6:40
Motorola Atrix HD
6:40
BlackBerry Curve 9380
6:40
Sony Xperia Z
6:37
Samsung I9300 Galaxy S III (JB)
6:27
HTC Butterfly
6:24
Samsung i937 Focus S
6:15
HTC Windows Phone 8X
6:01
Sony Xperia ion LTE
5:56
Samsung Rugby Smart I847
5:53
Pantech Burst
5:51
Samsung Galaxy S Blaze 4G
5:45
HTC Desire V
5:44
HTC Evo 4G LTE
5:41
Nokia Lumia 920
5:40
Samsung Wave 3 S8600
5:34
Sony Xperia T
5:33
Samsung Captivate Glide
5:33
Samsung I8530 Galaxy Beam
5:28
Samsung Galaxy Note LTE
5:24
Samsung Galaxy S Duos
5:23
HTC Sensation XL
5:20
Meizu MX 4-core
5:19
Samsung I9300 Galaxy S III
5:17
Sony Xperia acro S
5:16
HTC Rezound
5:16
HTC Desire X
5:16
LG Optimus G
5:15
HTC Rhyme
5:08
Samsung I9103 Galaxy R
5:07
HTC One X (AT&T)
5:03
Sony Ericsson Xperia Pro
4:50
LG Optimus Vu
4:49
HTC Vivid
4:46
Samsung Galaxy Ace Duos
4:45
Meizu MX
4:35
Google Nexus 4
4:34
Nokia N9
4:33
Acer CloudMobile S500
4:32
Nokia Lumia 820
4:24
Samsung Galaxy S II
4:24
Sony Ericsson Xperia neo V
4:20
HTC One X
4:18
Nokia 808 PureView
4:14
LG Optimus 3D Max P720
4:10
Nokia Lumia 900 for AT&T
4:10
Nokia Lumia 800
4:07
HTC Titan II (LTE)
4:05
HTC One S
4:03
BlackBerry Bold 9790
4:02
LG Nitro HD
4:00
LG Optimus 4X HD
3:59
Sony Xperia P
3:59
Nokia Lumia 710
3:51
Samsung Galaxy Pocket
3:47
Samsung Galaxy Note
3:35
Huawei Ascend P1
3:23
Samsung Galaxy Nexus
3:01
Other than web browsing, watching videos is the next area where a big screen is of major benefit. If you're on a long commute or on a plane, for example, the HTC Butterfly will last for nearly 8 and a half hours before the battery hits 10% (many phones refuse to play video below that threshold, so that's where we end this test). That's enough for quite the movie marathon on a long transatlantic flight (note: we do the test in offline mode).
The Xperia Z failed to match that time. It only took 5:39 before the battery meter showed 10%. Although codec support between the two devices is generally the same (the only real problem the two share in common is the lack of AC3 audio support), it's kind of a mystery as to why the Butterfly does so much better.
While you probably won't watch videos on the HTC device for 8 hours straight, you can watch a three hour movie and have plenty of battery left over. Doing the same on the Xperia Z will leave you with less than 50%, even if you started on a fully charged battery.
Video playback
Motorola RAZR MAXX (ICS)
16:35
Motorola DROID RAZR MAXX
14:17
Apple iPad mini
12:51
Samsung Galaxy Premier
12:51
Samsung Galaxy Note II N7100
11:27
Apple iPhone 5
10:12
Samsung I9300 Galaxy S III
10:01
Nokia 808 PureView
9:53
Samsung I8530 Galaxy Beam
9:42
Samsung Rugby Smart I847
9:34
HTC One S
9:28
Samsung I9300 Galaxy S III (JB)
9:27
Apple iPhone 4S
9:24
HTC Evo 4G LTE
9:07
Nokia N9
8:40
HTC Butterfly
8:28
Samsung Galaxy Note
8:25
HTC One X+
8:11
Motorola RAZR i
8:11
Samsung Galaxy S II
8:00
Samsung i937 Focus S
7:55
Samsung Wave 3 S8600
7:52
Samsung Galaxy S III mini
7:46
Sony Ericsson Xperia neo V
7:45
Huawei Ascend P1
7:38
Samsung Galaxy S Blaze 4G
7:33
HTC Droid DNA
7:30
Samsung Galaxy Note LTE
7:30
LG Optimus G
7:16
Meizu MX 4-core
6:33
HTC Windows Phone 8X
6:27
Nokia Lumia 810
6:27
HTC Desire V
6:26
HTC One X (AT&T)
6:26
Nokia Lumia 820
6:25
Samsung Galaxy Ace Duos
6:25
LG Optimus Vu
6:23
Samsung I9103 Galaxy R
6:21
Nokia Lumia 920
6:19
HTC Sensation XL
6:12
Samsung Galaxy Pocket
6:06
Samsung Captivate Glide
6:04
Sony Xperia ion LTE
6:03
Samsung Galaxy Nexus
6:02
Sony Xperia T
6:01
Motorola Atrix HD
6:01
HTC Vivid
6:00
HTC Radar
5:54
Nokia Lumia 800
5:52
HTC Titan II
5:50
BlackBerry Bold 9790
5:47
HTC One X
5:45
Sony Ericsson Xperia Pro
5:44
Sony Xperia Z
5:39
Sony Xperia acro S
5:38
HTC Desire X
5:38
Pantech Burst
5:38
Meizu MX
5:27
HTC Rhyme
5:23
HTC One V
5:20
Acer CloudMobile S500
5:18
Nokia Lumia 900 for AT&T
5:18
BlackBerry Curve 9380
5:09
HTC Rezound
5:03
Google Nexus 4
4:55
Samsung Galaxy S Duos
4:30
Sony Xperia P
4:30
LG Nitro HD
4:17
LG Optimus 4X HD
4:14
LG Optimus 3D Max P720
3:28
Nokia Lumia 710
3:27
When we tally the numbers and take standby efficiency into account, the Sony Xperia Z lasts two full days on a single charge in a usage pattern involving an hour each of calling, web browsing and watching video per day. Despite its poor video playback endurance, the Xperia Z showed better standby efficiency than its competitor, which helped it achieve an important victory here.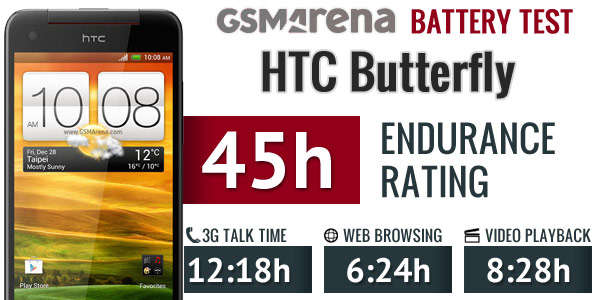 In comparison, the HTC Butterfly comes in just short of the two day mark, with a rating of 45 hours. It has some great overall performance across all three of our tested categories, but it seems that Sony was able to do better when it comes to keeping your device in standby mode. Not to mention that the Xperia Z also offers a Stamina mode, which boosts stand-by efficiency even further.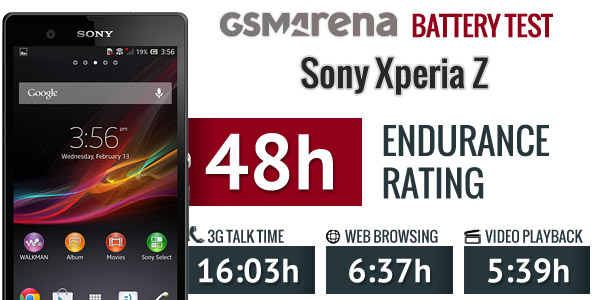 Winner: Sony Xperia Z. If you plan on watching a lot of videos on your smartphone, then the HTC Butterfly has the edge, but the Sony Xperia Z has the upper hand elsewhere and that's without taking advantage of its home-baked Stamina mode.