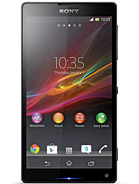 r
This phone is gonna be awesome...
I am a sony lover since the first walkman phone, Now I have my Live with Walkman and This Year I will have this phone for sure.
D
what's that on the lower right corner... the front camera ??


btw, all 2013 flagship handsets will feature 1080p-5inch-quad[krait, tegra or exynos] ... except for iPhone5S and 6 ... soryy apple fans, you cannot join the party because your leader has a small hand...
G
udaya UK , 02 Jan 2013yapz :) i gng to buy dis 1.. Fish you......... um gonna be the first..... i will rob a bank if i had to
u
Ghost, 02 Jan 2013Gonna be the ultimate phone ever. Love you sonyyyyyyyyyyyyyyyyyyyyyyyyapz :) i gng to buy dis 1..
D
If i were to buy an Android, this would be my only choice. I wish it'll have a 4000+mAh battery. I wouldn't choose even S4 and Note3 instead of Sony.
?
Good but what's the bet that the battery will once again be ridiculously small? Highly likely.
?
I believe it's about time Sony used their muscles and caught up with the rest of the major players.
Total of 3515 user reviews and opinions for Sony Xperia ZL.