The Sony Xperia ZU, codenamed Togari, has made an appearance in its first live photo. The image which purportedly displays the side of the Xperia ZU isn't of very good quality. However, that is compensated by the cute cat that stands on top of Sony's phablet.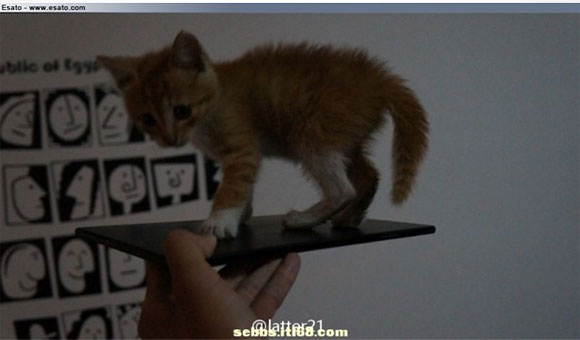 The cat aside, the Xperia ZU looks to carry the design language of the Tablet Z and Xperia Z featuring straight edges and amazingly thin profile. Rumored to sport a 6.44-inch 1080p display, the Xperia ZU is said to be powered by the 2.3GHz quad-core Qualcomm Snapdragon 800 chipset and 2GB of RAM.
On top of that, chatter around the web suggests the phone will be IP58 certified and will support pencils for stylus. The Xperia ZU is expected to run on Android 4.2.2.
Sony will be holding an event on June 25, and we reckon the Japanese will show off the Xperia ZU there.
?
not a phablet it must be a phone to compete r better say beart the s4 i wish that xperia could release the monster i1
j
sony=tough+design+innovation
c
At have the moment I have the z, I Think 6.44 inch, is a bit big.although I do like the 2.3 qaud core! Lets hope they slove.the over heating!!
ADVERTISEMENTS