The rumor mill can no longer gossip about the HTC Desire C after it went official yesterday, but the HTC Ville C has come to fill its place. Ville, if you recall, was the codename for the HTC One S and according to the rumors, the Ville C is a cheaper version of just that phone.
According to the leaked specs, the Ville C will have an "ultra slim" body (though it's not clear if it will be as thin as the One S and if it has a unibody design or not), an 8MP camera with 1080p recording, 16GB of built-in storage and even the same 1650mAh battery.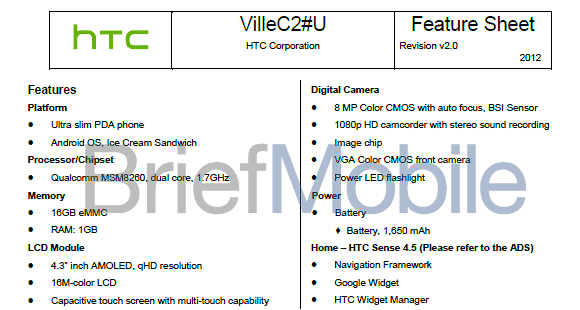 It will run Android 4.0 Ice Cream Sandwich, of course, but the HTC Sense version is listed as 4.5. Currently, the One series uses Sense 4.0, so what can this new version bring?
The situation with the screen is a bit unclear - it's a 4.3" unit with qHD resolution, though the spec sheet calls it both "LCD" and "AMOLED". If the Ville C is going to be a cheaper One S, it might make sense to go for the LCD, but we'll have to wait to find out.
The processor has certainly been downgraded though - it's a Qualcomm Snapdragon S3 MSM8260 with the dual-core CPU clocked at 1.5GHz ala the one that powers the HTC Sensation XE. What you see in the specs sheet is most probably a typo.
There's no mention of Beats Audio, though since the entry-level Desire C has it, we would be really surprised if the Ville C doesn't come with the sound-enhancing technology.
That's all the available info on the HTC Ville C for the moment, though we hope it will follow the example of the Desire C and leak a few more times to satisfy our curiosity.
a
i thnk its 1.7 ghz dual core only, 'ville c' is the 'one s' that is launched in tiwan...
A
See my comment. Already told that mistake.
?
Seems like MSM8260A, not MSM8260.
ADVERTISEMENTS