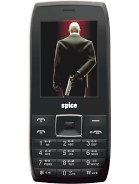 u
sir

kindly intimate whether currency check facility is available in above model .If no in which model it is available.I am told that it was available in model m4580 spice killer but same is not in the list.
with regards

DR U N palandurkar
M
killevilla, 13 Aug 2013Its the best mobile phone at its range,I bought it for 2500 wen my blackberry was gone for rep... moreLawl, joke of the year goes to you, sister
k
Its the best mobile phone at its range,I bought it for 2500 wen my blackberry was gone for repair,its my back up phone now n guess wat ..its sounds can beat even galaxy s 4 ,lol.

B
Very Bed & I have experience Very bed Service Station. I purchase 7 Month. put a water Mobile is not working.

D
i will sue spice for false advertising. i threw this phone at my boss, she still lives!
T
lowest priced multimedia phone, dual sim dual standby, USB charging, battery life super, bad about this phone is it this phone does not have java, no edge, phone memory low. but big nice display...
T
it has 3.5mm Audio Jack, 1.3 mega pixel camera, Big loud speaker, back panel is super glass finishing like.
T
killa baws, 23 Oct 2012what an killer boss phonedoes it hv 3.5 mm jack???
Total of 14 user reviews and opinions for Spice M-5365 Boss Killer.