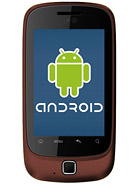 D
this phone is really bad dont settle for this phone keeps restrating nd batterhy life relly bad!dont buy instead buy a galxy 5!dont settle for the galaxy mini either put 2 or 3k more nd settle for galaxy ace
?
i m confused between this and wave 525 can someone pls help me out what would be the best choice
m
This phone is really worth to buy especialy for new user wants to hands on android device. The device is really cheap but the performance looks like galaxy mini from samsung, but this device lack of camera. The result of the camera is really poor.
r
what a phone, this is what i was waiting 4. ANDROID 2.2 n wat else. Spice u totally rock...
Total of 207 user reviews and opinions for Spice Mi-310.