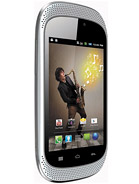 p
this my phone spice mi a 353 in you tub online high qulitaiy not con t pls sloutines
K
Advantages:-1) video streaming
2) 3.2 af camera with flash
3) 3g speed (7.2)mbps.
4) dual speakers with amplifier.
5) 1500 mah battery.
6) android (gb) with 1ghz Qsd
7) front cam.
Faults:-(1) single core
2) low resolution & no ips display
3) 16 gb

K
At the first glance we can say it...Wow.
All of things u can get like 3g,gps,1ghz snapdragon processor,wifi b/g/n, bt3, edge c12, 3.2 mp autofocus with led flash + 1.3 ff, 1500mah battery, andreno 203 (for smooth gaming),

Its a good budget device.
Total of 49 user reviews and opinions for Spice Mi-353 Stellar Jazz.