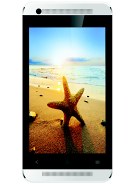 D
i dont like about this phone,, though this phone can support 3g but when i connect internet with 3g its become slow in processing..
c
did anyone knows which battery can be used in spice stellar mi 439 model as alternate ?i am not getting its battery from any sales and service.
R
its a dam goog phone i am using this phone since 8 months and there is no isssue in this phone and its internet speed is so fast so that we can enjoy the speed but the problem is with the 3g network..........its 3g network connection very low but over all its a good phone
R
I am using this phone from last 7 months but I am not happy with the features compare to price.
A
very nice phone looks is good i am using it for six months but don't found any problem
r
Very nice phone. Touch is very smooth. No problem. Internet is very first. Superb 3g speed. Video quality is nice...........

D
in a website shows internal is 4 gb but i do not have 4 gb internal i have only 1 gb internal
Total of 12 user reviews and opinions for Spice Stellar 439 (Mi-439).