Game and app developer Steve Troughton-Smith reports that he has discovered code in the updated Springboard on iOS 8 that will allow Apple iPad tablets to run two apps side by side. The apps can split the screen 50/50 or 25/75.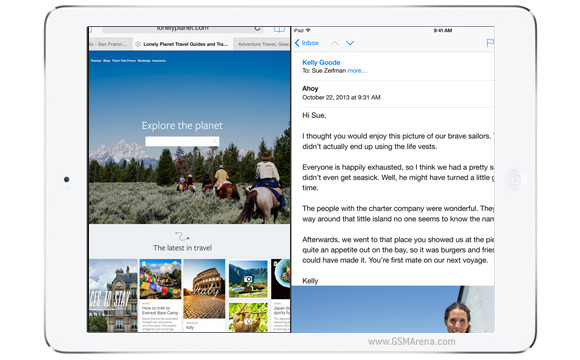 The split-screen multitasking will only work in landscape mode. Once you have two apps running together they will show up as a single screen in the app switcher. The code isn't ready yet as running it causes one side of the screen to be blank and the app crashes.
This feature is reportedly aimed at the 9.7" iPad Air and a potential larger iPad, but not the iPad mini or the iPhone.
So… just in case there was any doubt left… iOS 8's SpringBoard has code to run two apps side-by-side. 1/4 size, 1/2 size, or 3/4 size

— Steve T-S (@stroughtonsmith) June 9, 2014
Side-by-side apps show as a single 'screen' in the App Switcher

— Steve T-S (@stroughtonsmith) June 9, 2014
A similar feature is available on Samsung's Galaxy tablets and on the Microsoft Surface.
M
Lol Some people just say things They dont know Any shit About haha crazy shit lol. But without Steve its not the same. I like the software its can not have à Total crash always fixeble. But They need to work on search app in store iT wor...
D
Hey everyone I just flicked on a switch and the lights turned on. I just discovered electricity. But seriously, Companies need to change the way they word their announcements. They all need to change from I invented/discovered/all around came up with...
o
if steve jobs was here, i would have got iP5S since it was announced, and im probably selling all my samsung phones to get the iP6.