Spotify has sent invitations out to the press for an announcement that's taking place in New York City. The event invitation only says "Spotify invites you to a news announcement. Morning of Tuesday, April 24 New York City". The invitation has a gradient blue background, so there isn't even a hint as to what the "news announcement" is all about.
If recent reports are anything to go off of, there are a couple of plausibilities. Not long ago, a small number of users reported a feature that was being tested by Spotify: a voice interface that would make it easier for folks to navigate around the music service's vast collection.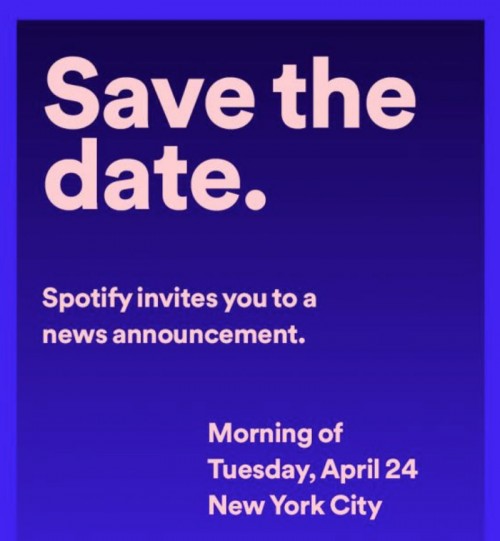 Back in February, the company posted a job listing that explicitly described that the company needed help to set up "manufacturing, supply chain, sales, and marketing" for some kind of tangible hardware product. This leads to a couple of possibilities like a Spotify smart speaker or maybe some kind of in-car voice-activated solution for listening to Spotify.
Again, the invite doesn't hint at hardware. The announcement could even be the launching of some new service or a restructuring of Spotify's paid tiers.
If we went on, we'd just be spit balling even more. What do you think Spotify will announce?
?
i dont use it too. it sucks your money for nothing. if u want musics, you can just download it from any torrent sites for free
?
piracy is better. we can get anything for freeee.