Spotify Lite app launches on Google Play for those with modest data plans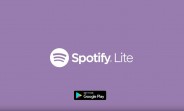 Spotify now has its own Lite app for people with stringent data plans and limited phone storage. The Spotify Lite app takes just 10MB (compared to the 100MB of the regular app) and allows you to monitor and limit the amount of mobile data it consumes.
Spotify Lite supports both free and premium accounts and comes with the standard features like searching for artists, discovering new music and support for playlists.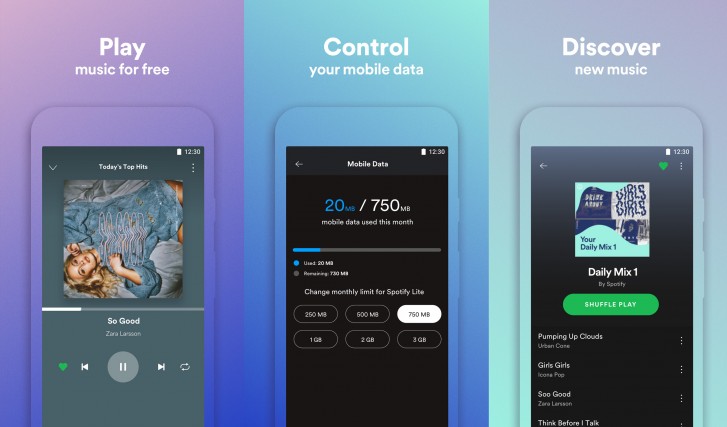 The light app is meant for developing markets and will launch in 36 countries across Asia, Latin America, the Middle East and Africa. Europe and the US won't get the app at the beginning.
Here's the full list of countries to get Spotify Lite - Brazil, Canada, Mexico, Argentina, Peru, Chile, Colombia, Bolivia, Costa Rica, Dominican Republic, Ecuador, El Salvador, Guatemala, Honduras, Nicaragua, Panama, Paraguay, Uruguay, Saudi Arabia, Egypt, Algeria, Lebanon, Morocco, Tunisia, Oman, Jordan, Bahrain, United Arab Emirates, Kuwait, Qatar, South Africa, Indonesia, Philippines, Vietnam, Malaysia, India.
Spotify hopes that the smaller app for those with limited data plans will help it grow its user base in developing markets. Spotify went live in India in March and took only a week to gain more than 1 million users.
Other popular apps with Lite versions include Facebook, Facebook Messenger, Tinder, Twitter and Skype, so clearly there's enough demand for those.
I
Can you show me where does it say it got only launched today?
G
Yeah! It still isn't available in my country (as many other lite/go apps) but I tried it a few months ago by downloading it from the web!