Spotify updates its desktop app to look more like the mobile version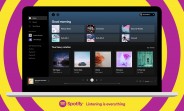 Spotify has announced it is updating its app for desktop and web interface and is bringing a new "improved look and feel". The redesign brings a lot of cosmetic tweaks, some features are finding a new place within the app, but the biggest noticeable change is the similarity to the mobile app.
The Swedish company has revealed the new update has been brought after months of debates and development. The Search field is no longer in the status bar - it has made its way on the side, right between Home and Your Library; this means Browse and Radio have been pushed into the three-dot menu in the upper-left corner.
Adding tracks to playlists is also made easier - just a simple drag and drop of the track towards a user-created playlist does the magic.
One of the best features of Spotify Premium is the ability for users to download their playlists on mobile, and now they'll be able to do this on desktop as well with the addition of a Download button/icon. There are also improved key combinations, which can be opened with Ctrl + ? or Command + ?, depending on the device.
The new redesign is already rolling out to all users globally, but it might take weeks to hit everyone. PC users can download the new app from Microsoft Store or Epic Games Store, while Mac users should head to Spotify's website.
?
Personally I'm glad they finally did this update, the application now feels a lot more fast and responsive and I have no problem in particular with the UI changes. Some people always seem afraid of change even when those changes are really small...
?
Arrogance and disrespect for users, it's how Spotify has turned now with this new desktop update. None of the explanations given by the company to justify their choice are making sense. This new UI is a total lack of respect for artist...
D
I've been a Spotify Premium user for a while now. But it's probably time to say goodbye.   As a paying user, it's completely unacceptable to have a new UI update PUSHED DOWN MY THROAT when I have NOT EVEN ASKED FOR IT.   I mean...
ADVERTISEMENTS