Sprint continues the expansion of its 4G LTE networks with 21 new markets in Florida, North Carolina, Texas, and more. Charlotte, Los Angeles and Memphis are part of the 4G expansion, too.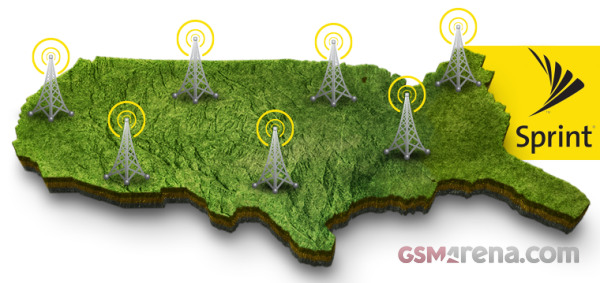 Here is the full list of new markets that already got covered by the Sprint's 4G LTE network:
Albemarle, N.C.
Bloomington, Ind.
Charlotte, N.C.
Contra Costa County, Calif.
Denison, Texas
Greeneville, Tenn.
Joplin, Mo.
Kerrville, Texas
Lafayette, Ind.
Lincolnton, N.C.
Los Angeles
Mankato/North Mankato, Minn.
Memphis, Tenn.
Norfolk/Virginia Beach/Newport News, Va.
Palm Bay, Fla.
Port St. Lucie, Fla.
Rochelle, Ill.
Salisbury, N.C.
Shelby, N.C.
Tullahoma, Tenn.
West Palm Beach, Fla.
The markets to get 4G coverage in a few months:
Fargo, N.D.
Orlando, Fla.
Portland, Ore.
Spokane, Wash.
Tallahassee, Fla.
Albertville, Ala.
Centralia, Wash.
Coeur d'Alene, Idaho
Durant, Okla.
El Paso, Texas
Enid, Okla.
Enterprise/Ozark, Ala.
Eugene/Springfield, Ore.
Faribault/Northfield, Minn.
Greenville, Miss.
Hattiesburg, Miss.
Jacksonville, Texas
Kennewick/Pasco/Richland, Wash.
LaGrange, Ga.
Longview, Texas
Longview, Wash.
Milledgeville, Ga.
Moses Lake, Wash.
Paducah, Ky.
Picayune, Miss.
Poplar Bluff, Mo.
Russellville, Ark.
Seaford, Del.
Sterling, Ill.
Talladega/Sylacauga, Ala.
Tulsa, Okla.
Valdosta, Ga.
Wenatchee/East Wenatchee, Wash.
Yakima, Wash.
As you can seeр Sprint is working hard on its 4G expansion. Let's hope it's equally keen on updating its phone portfolio, too.
M
Here's a bigger dumb question... Why expand to all those little towns but leave NYC out of it?? Are they f-ing retarded? There are 10+ million people living in NYC and they upgrade small cities in South Carolina? Ok... and this is one of the reasons ...
a
yes its available in india dude
K
I am patient with these guys. They may be slow getting the 4G LTE market updated but after 2 years of experience I left THE MOBILE because of the coverage issue. I pay a lot less for my family plan with unlimited data access. Keep improving your serv...
ADVERTISEMENTS