LTE is big on this year's CES. We've seen a couple of devices headed to AT&T's corner of the market and now Sprint is getting its own 4G lineup. The LTE version of the Samsung Galaxy Nexus is landing at Sprint along with the eco-concious LG Viper and the Sierra Wireless Tri-Network Hotspot.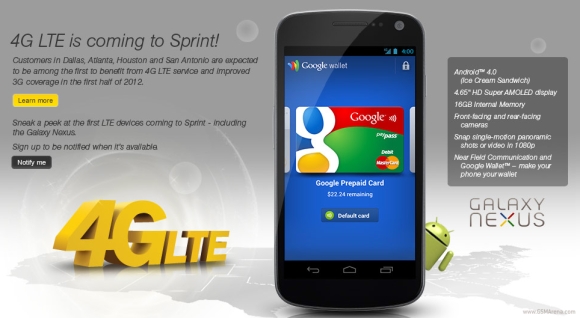 The Spring Galaxy Nexus sports the acclaimed 4.65-inch Super AMOLED HD display, Android Ice Cream Sandwich, CDMA and LTE combo network support and a 5 MP camera capable of 1080p video capture on the back.

The LG Viper is made from recycled materials, sports a 4" WVGA display, LTE connectivity, a 5 MP camera and a dual-core 1.2 GHz processor. NFC and Google Wallet are enabled on both the Viper and the Galaxy Nexus.
Finally Sprint unveiled the Sierra Wireless network hotspot, which offers a 3G/4G/Wi-Fi powerhouse combo that supports up to 8 users at a time.
We're yet to learn the specific release dates and pricing for Sprint's Galaxy Nexus and LG Viper.
g
4.0.3 has fixed much of the blrry camera i was having.
D
Still waiting for samsung to announce that quad core handset fanboys
D
Why not they release a 32 GB HSPA+ version? 16 GB shall leave little room after my choice of gameloft games and apps are installed. I do not mind for lower MP camera; but sure do fret over the outdated graphic chip SGX540.
ADVERTISEMENTS