Sprint's pre-order deal for Galaxy Note9 leaks, includes $300 AKG headphones
Samsung is keen for the Galaxy Note9 to sell well, it's already accepting pre-orders in the US. We're still a few hours away from the official Unpacked event but we get a sneak peek at the Sprint promo (chances are other carriers will run the same deals).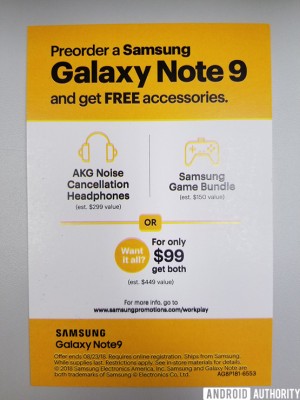 Sprint's pre-order promo for the Galaxy Note9
If you pre-order a Note9, you can pick between a pair of noise canceling AKG headphones (worth $300) or a "Samsung Game Bundle" (worth $150). The latter option is likely the 15,000 Fortnite V-Bucks. You can get either option for free or both for $100.
We saw a Value Pack with AKG Y50 BT headphones, but those do not have noise canceling and cost $150. The AKG N60NC fit the bill, though. These are on-ear wireless headphones with aptX support and 15 hours battery life (with Bluetooth and NC on).
Previous Samsung deals have promoted VR and the DeX Pad, 360° cameras, the focus this time seems to be gaming and audio (remember that Samsung owns Harman, which is the parent company of AKG).
yes! My mom loves this kind of deals. Maybe she'll change her mind and buy Note 9 instead of an iPhone 8. XD
F
yes you can :d https://www.samsung.com/id/galaxylaunchpack/?gcl­id=eaiaiqobchmi0_aw5frh3aivf4apch1isqgoeaayasaae­gjb4_d_bwe&cid=id_20180810_im_smart_gn9_po_i­_sem_gs_kwb_02_txt_na_broad_oth-rtpro-mix-up-cro­ss-gen-txt_galaxynote9_na_note9_na_na_...
Their sales might pick up if they do that!