It looks like the recently leaked LG LS970 "Eclipse" and LG LS860 "Cayenne" will have an entry level sibling on Sprint's network. The entry-level LG LS730 "Snapshot" has emerged in a curiously looking spy photo, which reveals the blurry front, and perfectly clear backside of the upcoming device.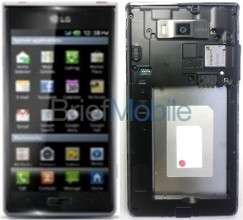 The image on hand is enough to suggest that the upcoming smartphone is rather closely related to the globally available LG Optimus L7 P700, and so do its specs. They include a single-core Qualcomm MSM8655 CPU and Adreno 205 GPU, 768MB RAM and 4GB of built-in memory, 5MP camera and 1700mAh battery. The handset's body will be only 8.8mm thin - again in line with the waistline of the L7.
Expect to see the LG LS730 at some point in Q4, wearing a low price tag and modest market ambitions.
j
Lol. yes, but you and I both know why all the comments are else where. This story just came up at the wrong time
W
Uh oh. Another LG story that no one cares enough about. I hope this one makes it to at least 30 comments this time.
t
because they have the refrigerator's fame but actually behave worse than unknown Chinese phone makers
ADVERTISEMENTS