The budget iPhone rumors started with the same back panels photographed over and over again, but slowly we're getting more believable stuff – first the FCC labels on the phone's box. Interestingly, it's labeled iPhone 5C.
The design of the box is also notable – old iPhone boxes had square angles and a big image of the phone inside. The boxes in the image are all white (no images except a black Apple logo), glossy (plastic?) and have round corners. This would fit the new design direction by Jony Ive, who really streamlined iOS with the latest version and removed all unnecessary eye candy.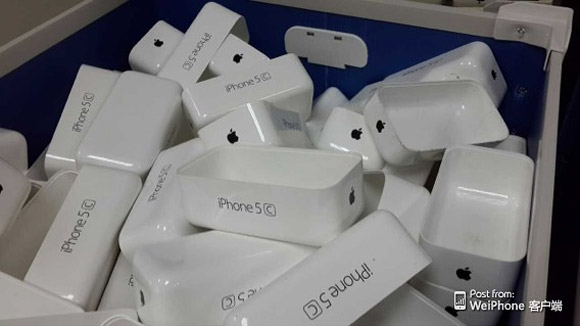 Also, it looks close to the iPod touch box. The old iPod touch box (4th gen), which casts a shadow of doubt over these images (more than there already was).
Anyway, the box is reportedly 7-8cm thick and big enough to fit a Samsung Galaxy S4 – does this mean the cheaper iPhone will have a bigger screen or Apple got bad at packaging? That doesn't sound like the idealistic team stationed at 1 Infinite Loop.
Then there's the model name – "5C". We're expecting the iPhone 5S to be this year's iPhone, the S indicating it's an upgraded version of the current model rather than a complete redesign. Does that mean the "C" stands for… what? Compact? Just a letter meaning "mid-range"? China (Apple is pretty weak in the big Chinese market)?
The latest rumor is that the budget iPhone will be announced on September 6, but there's other gossip contradicting it. Keep in mind this could all be sham.
Thanks to everyone who sent this in!
Source (in Chinese)
D
nope...Huawei ascend P6 thinnest phone to date
D
Yes! The Asus PadFone Infinity!
D
Apple: "It is also for that!" :D
ADVERTISEMENTS