Stable Android 11 update for OnePlus Nord on pause after users report bugs
The stable Android 11 update for the OnePlus Nord started rolling out just over a week ago, but that rollout has now been paused. It turns out that several bugs have slipped through the three open beta testing stages.
The OnePlus team is working on fixes and once they are done the update process will resume. If you have already installed Android 11 on your Nord, you will receive a separate update with the fixes.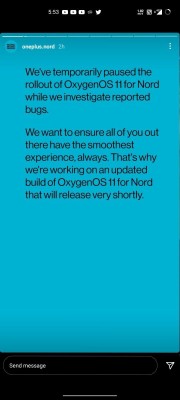 OnePlus' out a message to Nord users (image credit)
There's no official list of bugs, but users have complained about various issues after installing the update. There seem to be battery troubles with increased drain and slow charging. Other reports point to GPS issues, as well as problems with features like Parallel Apps and the App Locker.
You can check this thread on the OnePlus forum for more information, any new developments should appear as stickied posts.
Honestly good luck, a lot of manufactures these days screw up with updates, heck my T-Mobile OnePlus 7T still hasn't received Android 11 yet due to there being an "encryption problem". Google is quite timely with their updates so I...
D
Almost all my Android phones in the past (with few exceptions) suffered from some bad software update (when going from Android X to Android X+1). Maybe battery was depleting too fast, maybe bluetooth was not working good, some wi-fi problems, camera ...