Stand-alone controllers for Google Stadia now available for pre-order
The "Founder's edition" pre-order bundle for Google's Stadia includes a Chromecast Ultra along with the controller and costs $130. Now you can get just the controller on its own in one of three colors. You may still want to get the full bundle even you already have the Chromecast, though.
The controller alone is $70, so you're saving $60 – that's how much the Chromecast Ultra costs. However, the bundle comes with 3 months of Stadia Pro (normally $10 a month) and a Buddy Pass to invite a friend. The free tier of Stadia will not be available until 2020, so you can't use that to test the service.
If you already have the Chromecast and someone gives you their Buddy Pass, then it's worth it to skip the Founder's edition bundle. Do note that it comes in an exclusive Night Blue color while the stand-alone controllers are available only in Clearly White, Just Black and Wasabi.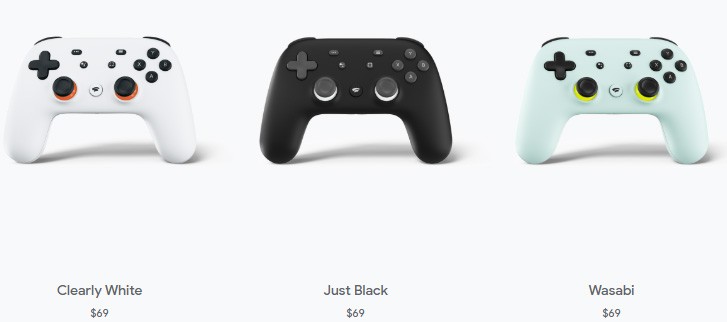 If that works for you, follow the Source link to the Google Store listing of the stand-alone Stadia controller. And don't miss our thoughts on Google's streaming gaming service.
Too complicated. Still basic computer wins over any console. And the site like www.gog.com where you can buy more than a million games really cheap. Or sites like steam etc.
The Pro membership gives you a catalogue of games for free, the founders edition, which comes with 3 months pro membership, even has Destiny 2 with all the DLC for no extra cost. In comparison Mircosoft and Sony ask that you fork out 400-500+ on...
ADVERTISEMENTS