While in China negotiating business with major operators there Stephen Elop has went on record in an interview saying that the first Nokia Windows Phone devices will become available in Q4. He also added that availability will occur in a rollout that Nokia will sequence - one country after another.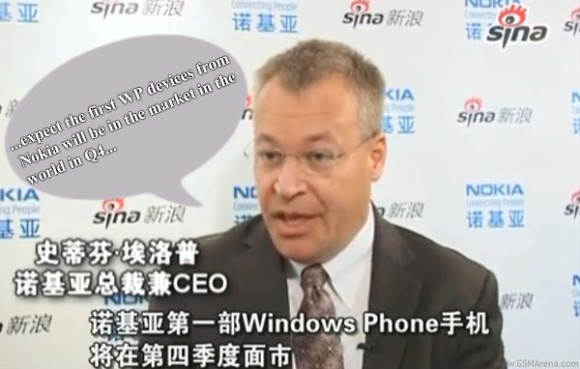 This is great news and certainly clarifies yesterday's pseudo-official rumor that we'll have to wait until Q1 of 2012 - it now looks as though that concerns Australia only.
Elop also confirmed that his visit to China is in part concerned with negotiating the launch of the WP7 Nokia devices there, although he didn't specify as to which exactly.
Nokia's CEO also added that there will be areas of the upcoming WP7 devices that will be Nokia-provided. He gave navigation, mapping and entertainment as examples, which will make the product "uniquely Nokia".
Here's the video itself - it's only 6 minutes long.
Well, we can hardly wait. Common sense again points to an announcement at the Nokia World event at the end of October.
N
If nokia wp7 phone does not come with bluethoot file transfer, wireless hotspot, usb on-the-go and f.m reciever/transmitter, i will not buy it. I will rather buy n701.
L
NO BLUETOOTH FILE TRANSFER IN WINDOWS 7 MANGO?!!. Thats just bul -sh**t. Why did nokia choose an os that dont give the most important thing nokia fans want '' FreeDom!!!'. This alone will spell WP7's doom and nokias demise. I love nokia but what stop...
D
nokia will have to release a wp7 device as soon as possible. if they dont, its not android or iOS that will kill winphone, but belle. public acceptance of nokia still swings in symbian's favor so the later wp phones comes the more fans will stay...
ADVERTISEMENT