Stephen Elop, Nokia's CEO, was in an interview today with Walt Mossberg where he answered some pressing questions about Nokia, whether it's the transition from Symbian to Windows Phone 7 or about the rumors of Microsoft buying Nokia and about entering the tablet space, he was grilled.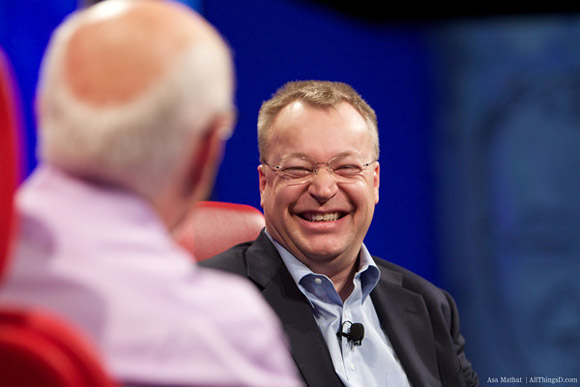 When asked about the move away from Symbian, Elop said it was definitely painful. The reason they decided to move away from Symbian was because that wanted to catch up with iOS and Android and with Symbian it would have taken a lot of time. Elop also described Symbian as being "crufty".
A similar problem was faced when deciding to go with MeeGo. So it was then decided to go with Windows Phone 7 as it would allow them to catch up with the other two platforms at a faster rate. They could have gone with Android but Nokia felt it would have been difficult to differentiate themselves with other Android OEMs and they would not have had the same influence as they do now with Windows Phone 7.
Commenting about the competition, Elop also expressed his wish to see Samsung become more successful with Windows Phone 7 as that would increase the popularity of the platform and make Nokia's goal of establishing Windows Phone 7 as the third major smartphone platform easier.
As for the rumors of Microsoft buying Nokia, Elop said that "the rumors are baseless" and that "there's absolutely no discussion". The reason for this is that it would not make sense for Microsoft to buy Nokia because smartphones only form half of Nokia's business as they also sell a lot of feature phones and "that business does not align with Microsoft's business".
About losing market share in US, Elop said that Nokia had 30-40% share of the US market in 2004 but then the people there moved to flip phones and Nokia didn't think they were very important. He mentions this as a major cause of the drop in popularity for Nokia in the US.
When inquired about when the first Nokia Windows Phone 7 will hit the market, Elop mentioned they are targeting the fourth quarter of 2011, just in time for the holidays.
Regarding tablets, Elop said "We'll have to address that space." But then again, that's no news, is it?
Source
V
It's fun to read it in 2015 :D
T
No doubt Nokia has a best class phone building capabilities. But the decision to with windows and leaving android to precarious. I feel Android is going to change whole game and no body will have monopoly what enjoyed for two three years. If Nokia co...
?
lets hope they do buy nokia then if its the only way to purge an outdated os such as symbian, you have to move with the times or get left behind, and with the nokia fans favouite anchor around their neck nokia has been left well behind theyve just be...
ADVERTISEMENTS