If you're the benchmark-obsessed geek than CES 2013 might be turning out quite exciting for you.
After Samsung unveiled its latest and greatest Exynos 5 Octa chipset, NVIDIA announced Tegra 4 and Qualcomm lifted the curtain of its newest Krait-powered Snapdragon 600 and 800 series SoCs, it's now ST-Ericsson's turn to stand in the spotlight. The company just announced its latest NovaThor chipset - the L8580.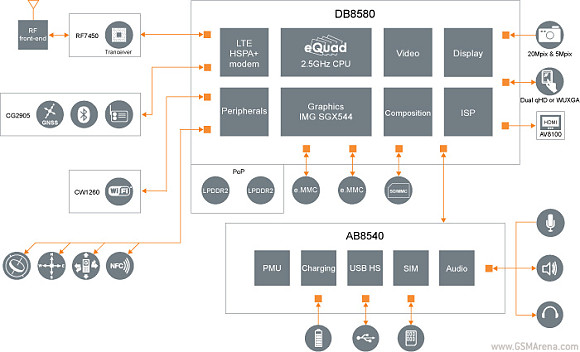 It comes with a low-power eQuad processor with four Cortext-A9 cores, clocked at up to 2.5 GHz, the PowerVR SGS544 GPU and the ability to go low-power and run at 0.6V.
The NovaThor L8580 can deal with 1080p video and support display resolutions of up to 1920 x 1200 pixels. 20MP primary cameras and 5 MP secondary ones are allowed too and there's built-in LTE HSPA+, TD-SCDMA and EDGE radios. 3D reproduction and capture is also on board if that's your thing.
The ST-Ericsson L8580 chipset should allow the creation of affordable mid-range devices with excellent processing power and good battery life. The top shelf smartphones and tablets will move on to Cortex-A15 architecture this year, but there's plenty of ground below them for the NovaThor L8580 to cover.
C
for all that find it hard to understand - its called humour...
T
It's not about who cares or not about the number o cores, but the title of this article. It seems to indicate that 8580 has four A9 cores (as in quad-core A9 CPU), while there are in fact only two. So, some more journalist correctness is required her...
m
who really cares @ the number of cores present? has there really been a task u have used a smartphone to do and really hoped "damn i wish this sob had more cores or was faster"!!! the whole bottleneck on these SOCS is the GPU. sgx5...
ADVERTISEMENTS