Steve Kondik, the man behind the CyanogenMod team that makes custom ROMs for Android smartphones, has joined Samsung Mobile as a software engineer.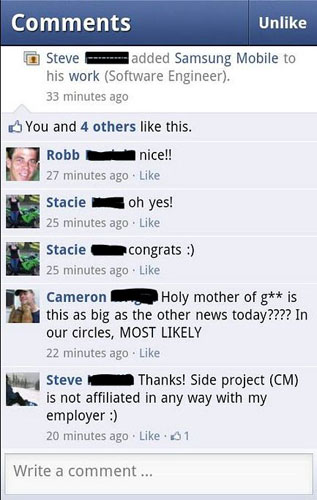 This information comes courtesy his Facebook profile where he recently changed his employer to 'Samsung Mobile'. Steve informed everyone that his side project CyanogenMod is not affiliated in any way with Samsung Mobile and thus development is likely to continue.
It's always nice to see small-time developers being hired by big companies for the good work they have done. We wish Steve all the best for the future.
r
Off-Topic : Can't you haters just leave Symbian and Nokia out of this ? It's about Steve here ,not the joke-ware of the past Nokia's ! On-Topic : Great Steve !! Make us even prouder than you made us until now !!! ...really great news !
k
he will be an asset to samsung mobile....
D
nah they just brought him in to beat him up. Lol anyway Steve is quite a good name in the tech circle with the likes of Jobs and Elop now kondik.
ADVERTISEMENTS