YouTuber xeetechcare has been testing the Galaxy Note7 durability in various ways, including dropping it, drowning it and now trying to damage it with a knife and two hammers - a small and a large one.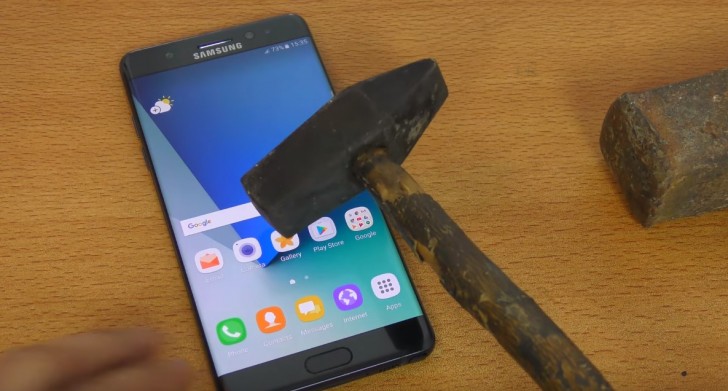 You don't have to be a fortuneteller to know what'll happen. The Galaxy Note7 sports a Gorilla Glass 5 on the front and it survives the knife test pretty well. However, that's not the case when the hammers started dancing to the tunes of destruction.
Check out some Galaxy Note7 carnage below.
We can't help but compare the results to a similar test done to the Galaxy Note5. Dating a year back, the test from PhoneBuff shows that the Galaxy Note5's Gorilla Glass 4 protection isn't as tough as the latest generation. Now who would've expected that?
Here's our full review of the Galaxy Note7 for you to check out.
v
i was like..omg i just bought that..then..thank you god..its a 1000$ here...on the other hand my n8 was built like at tank..still is...i fell 4 ft then slid across the floor for about 15ft then hit the wall...just some scratches on the anodized alumi...
Hey I did say that glass is very fragile, but when your phone fell off your hand then it's like playing lottery. You must be lucky to avoid breaking your phone. I have an xperia Z5, and it's also glass sandwiched. Once it fall straight on the road...
v
if you're talking about moto g thats probably because they are dirt cheap...hehe..but yeah..i have never used a screen guard for moto...even when it had those old resisitive touch...my friend never bothered to cover up his screen..my dad has bought a...