Android dominates Indian smartphone OS market with whopping 97% share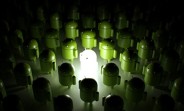 Android's share of the Indian smartphone OS market jumped to a whopping 97.1% in Q2 2016, according to market research firm Strategy Analytics. The figure stood at 90% in the year-ago quarter.
In terms of smartphone units, India saw 29.8 million Android phones getting shipped in Q2. This compares to a total of 30.7 million smartphone units shipped in the country during the quarter.
"Android shipped 29.8 million smartphones in India in Q2 2016, growing an impressive 28 percent annually from 23.2 million units in Q2 2015," said Neil Mawston, Executive Director at Strategy Analytics.
"Android maintained first position across India with a record 97 percent OS share for the quarter, up from 90 percent a year ago. Android dominates the India smartphone market and looks unbeatable right now, due to its deep portfolio of hardware partners, extensive distribution channels, and a wide range of low-cost apps like Gmail."
Meanwhile, iOS' share of the Indian smartphone OS market almost halved, coming down to 2.4% from 4.5%. The Cupertino-based company only managed to ship 0.8 million iPhones in the country during last quarter.
"Apple iOS fell 35 percent annually and shipped 0.8 million smartphones in India in Q2 2016," said Woody Oh, Director at Strategy Analytics.
"Apple's smartphone marketshare has halved from 4 percent to just 2 percent in India during the past year. Apple iOS will need to reduce iPhone pricing to cheaper levels, attract more operator subsidies and enlarge its retail presence through Apple stores or online channels if it wants to regrow significantly in the future."
M
Slowly and steadily Android is making it to the top by capturing the highest market share worldwide which is much higher then any other platform. But when it comes to revenue generation there has been no competition to iOS. Apple has been consecutive...
D
Yes that's when real fun starts I agree, but for different reason. At 95% market share, Android will put inexorable pressure on IOS and firework really begins at Apple HQ! No third coming of Jobs to save Apple's bacon this time around though!!