A total of 78.3 million tablets shipped in Q4 2014, up 1% from 77.2 million in the year ago quarter, according to the market research firm Strategy Analytics. This in contrast with an IDC report that says worldwide tablet shipments in the quarter were down 3.2% year-on-year.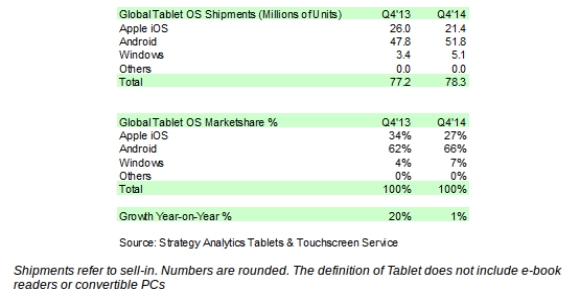 The SA report notes that Apple captured a 27% share of the tablet market in the quarter, compared to 34% a year ago. It also saw a 6.6% growth for the market for all of 2014.
"Android market share slipped slightly at the expense of strong iPad seasonality and recorded a share of 66% of the Tablet market," said Tablet Service Director Peter King, adding that Android tablets shipped a total of 51.8 million units in Q4, 2014, up 8% from 47.8 million a year earlier.
He also revealed that Windows 8.1 Tablets showed an 89% growth annually, while iPad saw an year-on-year decline of 18%, with shipments totaling 21.4 million. "The iPhone 6 products are putting pressure on the iPad Mini and the continued success of the Mac could be inhibiting some iPad Air 2 growth" said Eric Smith, a Senior Analyst in the Tablet Service.
Source
|
Via
?
It's more like people who bought the ipads are so satisfied with their products, they don't need to upgrade to a newer ipad. Android tablets sold are mostly low-end specifications and not much future updates, so android users don't have much choice t...
L
Is it me or what the post is saying is condradicting what is written in the table ?