Welcome to the week 7 edition of our Sunday Q&A. This week we talk the Samsung Galaxy S7 edge Nougat update, the resolution vs pixel size debate and benchmarks.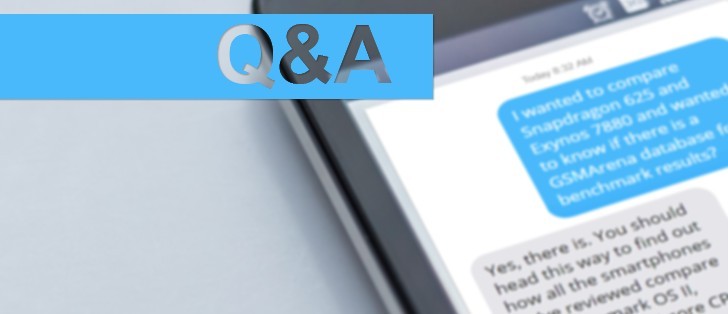 Ravi: With the release of the Huawei Mate 9 and the Cortex A73 cores inside it, the mighty Kryo cores inside Snapdragon 82x chips finally had a competitor that fared better in benchmarks. However, even the latest and greatest offering from ARM didn't even come close to the raw single-core computing power offered by A10 fusion cores inside iPhone 7/7+.
My question is how did Apple manage to create a chipset that is way ahead of its competitors when at the end of the day, even they rely on ARM licensed procedures and techniques to make their chipsets? Is it perhaps because of the optimised software, or is it because of plain old cheating like in the recently revealed cases of OnePlus and Meizu? Any insight will be greatly appreciated.
The most important thing to note here is that benchmark results aren't directly comparable between platforms. Even those cross-platform benchmark tests warn that scores obtained under Android and iOS aren't meant to be directly compared.
That said, there's no doubt that the A10 is a beast of a chipset with beastly single-core performance. Part of the reason is that it only has two high-power cores with each of those much larger footprint than the Snapdragon and Kirin CPU cores. There's also more to performance than just the architecture – stuff like L2 and L3 cache size and memory speed, which isn't normally officially announced by manufacturers so we don't have the full picture.
Finally in day to day operations software optimizations are just as important as sheer processing power and Apple having full control over the hardware and software is having quite the advantage there. When you know the specific hardware and software that you will run it's much easier to extract the best performance. Compare that to ARM, who designs cores that should power an enormous number of devices – from high-end smartphones through entry-level ones to stuff like smart refrigerators and Wi-Fi routers.
Nikolas: 1. In iPhone 6s camera spec, you write 1.22 µm pixel size on iPhone 6s. How about iPhone 7? Do they have the same pixel size?
2. iPhone 5s has 8 MP camera, and 1.5 µm pixel size, while iPhone SE has 12 MP camera, but smaller pixel size (1.22 µm) Which one is better? And which one is more important for picture quality in general - resolution or pixel size?
1. The iPhone 7 has the exact same sensor size and resolution as the iPhone 6s, which means pixel size is also identical between the two.
2. That a question as old as digital photography itself. The short answer is higher resolution leads to more fine detail in the shots, while smaller but larger pixels bring wider dynamic range and less noise. So we can't simply say that one is better than the other – it all depends on the specific use case. If you are doing most of your shooting in good lighting then a higher-resolution sensor might yield better results. If you shoot mostly in low-light environments you will lose most of the resolution advantage anyway so the larger, less noisy pixels of the lower-res sensor will give you better shots.
There're also other things to consider – putting a very high-res sensor on a smartphone means you also need the optics that are able to resolve as much detail to take full advantage of it. And that's really asking a lot from a tiny lens that can fit inside a modern ultra-slim smartphone.
Finally, there's the thing that the images a smartphone produces have just as much to do with the decisions manufacturers make regarding their processing as with their sensors. To give you one example – making images more contrasty and with more saturated colors leads to an increase in the noise levels as well. It's all about finding the right balance and it really isn't a one-size-fits-all thing so some will inevitably prefer one cameraphone, while others will go for another.
SaRPeR: Can you test the Sony Xperia XZ's battery life again after the Nougat update? Lots of people are saying Xperia XZ's battery life improved drastically after updating to Nougat?
Unfortunately we don't have the Sony Xperia XZ unit with us anymore as we had to return it following our review. That said, we are looking to obtain another unit so we can retest its battery life after the update and if we succeed we'll bring you the updated scores as soon as possible.
Alien: A lot of trolls are saying that Sony's mobile division is dying. Do you agree with them or is it just jealousy? Would you use the Xperia XZ as a daily driver?
Judging by its financial results lately the Sony Mobile division is certainly going through a rough patch. I wouldn't go as far as to say that it's dying, but if it keeps losing money Sony might consider selling it to reduce its losses. Hopefully that won't happen though as the company has brought plenty of innovation through the years and in recent times, so I hope it finds a way to improve its results.
As for the Xperia XZ – I'd gladly use it as a daily driver as it's really an awesome. Its exorbitant initial pricing meant it was out of reach for many people, but not that it's settled down a bit, it's actually a pretty good value flagship.
Vineet: Is it really wise to update the Samsung Galaxy S7 Edge to Nougat, while it looses battery life with the latest OS. Besides looks of UI nothing has improved so much.
We have a whole article detailing the changes brought by the Nougat update on the Galaxy S7 edge. The short answer is yes – the update is worth it, but you should probably check the complete review to know about all of the changes and then decide for yourself if it's worth it.
Anonymous: Hello guys. I have a really burning question that I need to ask and hope you can answer it, so I can compare phones specification. My question is which Soc is better for gaming? Snapdragon 430? Snapdragon 625? Snapdragon 650? HiSilicon Kirin 655? Mediatek Hellio X10? MTK Hellio X20? And which of this SoCs is power efficient when playing intense games?
It's a rather tough question to answer in a straightforward way. Power-efficiency seems to be the easier bit – the Snapdragon 625 has an advantage here with its 14nm manufacturing process, with the Kirin 655 coming a close second with its 16nm build. At the other end of the spectrum the MediaTek Helio X10 and Snapdragon 430 and 650 use the archaic 28nm process so they use the most power for the same amount of work. The Helio X20 is in between, on 20nm, and since it has a tri-cluster structure it actually does decently.
In terms of sheer performance We'd suggest you check out our mobile chipset guide to get a better idea on how they compare. Depending on the use case, the Snapdragon 625, 650, the Helio X20 and the Kirin 655 could all be the best.
If you have any questions for us - you can send them by using the form over here.
K
You're wrong, and I already gave you proof and explanation. QSD 625 = better GPU, much slower CPU Helio X20 = worse GPU, much better CPU Game performance: QSD 625 = GPU power, should win, but no it loses Helio X20 = should lose, but i...
D
Everyone here is just complaining and arguing with each other, while I am enjoying my Huawei P9 with the great Kirin 955 :D
?
it is a 'MUST', to make it more specific and easier to search phones through SOC in phone finder section
ADVERTISEMENTS