After a two-week break when Yours truly was busy roaming the streets of Barcelona and bringing you the latest updates from the MWC, the Sunday Q&A finally returns. Our inbox got overfilled and it might take a couple of weeks to catch up to all the interesting questions you posted.
This week we talk our top 10 by Fans chart, GPU comparisons and when is the right moment to upgrade your phone.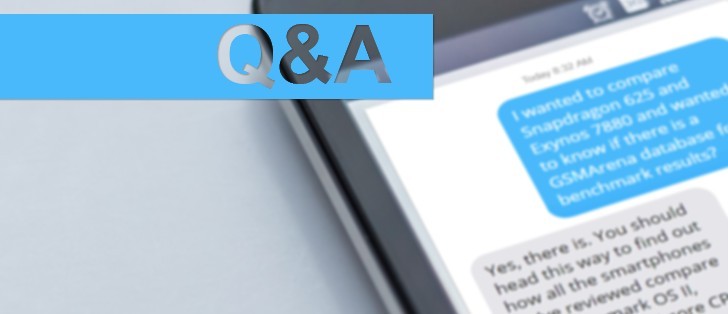 Stephan: Would it be possible for you guys to give us a competitive review on GPUs just as you did on the CPUs a while back? I know device resolution comes into play but maybe just include offscreen battery of tests. I tend to find that if gaming is important to you that even older chips such as those in Snapdragon 800 and 808s tend to be better than some of these latest CPU accompanying Snapdragon 625 and 650s.
Comparing GPUs without the context of actual implementations in specific SoCs and devices wonít do anyone much good. What really matters is how a given phone performs for GPU-intensive tasks such as gaming and we make sure to cover that in depth in our reviews. If you feel like comparing offscreen performance across various devices you should our Basemark X database, which contains most of the phones weíve reviewed in recent years.
Suraj: I don't understand why we need dual cameras for just bokeh effect, like in recent phones (for ex Honor 6x,Honor 8,iPhone 7 Plus). Because if a simple app would do that, why you need two cameras?
Does Dual camera in above mentioned phones provide anything more than the effect?
There are a bunch of different takes on the dual camera setup in smartphones. You have different focal lengths (LG, Apple), improved low light performance (monochrome sensors on Huawei and Xiaomi phones) and only depth information for bokeh effect(HTC, ZTE).
Creating a realistic bokeh effect in post processing is a rather hard task that involves a lot of challenges, hardest of which is detecting the actual outline of the subject that needs to be in focus and its distance from the other objects in the frame. Thatís something a second camera helps a lot with and normally helps deliver better results.
Plus as we mentioned, in most of the implementations the second sensor also serves another purpose so the bokeh assistance is merely an added bonus.
A bunch of people: Why is phone X missing from your top 10 by fans ranking when it has more fans than phone Y that is on the list?
To keep that list fresh we only allow phones that have been in our database for less than 18 months on it. Otherwise you'll only see very old phones there and you won't know, which of the new phones is the most widely loved.
Since some phones get uploaded as rumored that reduces their stay there by a few more months. We're considering changing that policy to only affect phones that have been official for 18 months so expect some changes there.
Joonie: Is it worth upgrading to a flagship phone this year, knowing that for the next year or 2, something would be far greater than the phones we have today? Would the satisfaction be a worth the money?
Ah, the age-old question - should I shop now or wait for until something better comes up? Thereís always going to be something better on the horizon and if you are afraid that an improved model will come out then you can never get anything.
The product upgrade cycle for every device family and manufacturer is pretty well established at this point so you know when the next flagship will come around. And unless you are a few weeks away from that thereís probably little reason to delay the purchase of a phone that ticks the right boxes for you. The smartphone race is extremely fast paced so you canít constantly stay at its front unless you upgrade phones every three months - the trick is to find a phone that works for you and be happy with that.
Sam: Why Sony cameras don't perform better than the competitors given every other mobile company uses Sony sensors? Why Sony skimps on battery?
While certainly one of the most important things, the camera sensor isnít the only factor that contributes to great image quality. There are also plenty of decision to be taken when it comes to image processing - balancing saturation and noise or noise and fine detail or detail and oversharpening artefacts.
Sony flagship cameras have certainly have had an edge over the past years when it comes to total resolved detail as the company went for very high resolutions. However it also often tended to have issues with corner softness in its lens, which meant sharpness rapidly dropped towards the edges of the frame. The high-res sensors also had issues with their low-light performance too - another issue that the not particularly bright lens didnít help with. Either way, the new Motion Eye camera that we saw at MWC 2017 seems to be a marked improvement for Sony and it might catapult the company back to the front of the camera race. Not sure what you mean by Sony skimping on battery, but we have had a bunch of Sony handsets produce excellent scores in our battery test. You can see all results over here to see that battery life has actually very rarely been an issue with Sony handsets.
Josh Cole: Please add option to select GPS, GLONASS, BDS, it will help ease the search of a perfect phone!
You can use the Free text field at the bottom of our Phone Finder page to filter phones that have GLONASS, BDS or another specific navigation system. You can also separate individual terms by comma to search for more than one supported system at the same time.
If you have any questions for us - you can send them by using the form over here.
D
I care ! Smartphones are cool but when getting larger they tend to be cumbersome and not very usefull, I think that modern computing will be mainly done on tablets, true smartphones will keep their place as indispensable gadgets in our life but table...
S
In Cpu computing, kirin is better but in graphic department, snapdragon is one of the best
M
Nobody cares bout tablets, let's keep it mobile only.