Hello and welcome to the new edition of our Sunday Q&A! This week we discuss iPhone storage speeds, the Moto G5 Plus camera and the Note5. Oh, and the lack of any capable compact Android smartphones.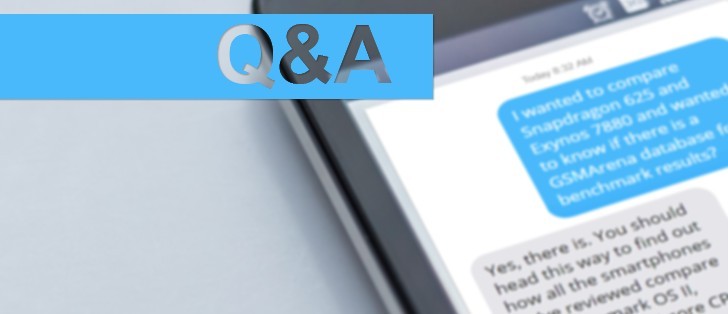 Aravind: Recently on a YouTube page I saw a video saying that Apple hides a secret from its users that lower memory variant of iPhone have much slower read/write speeds than the expensive higher memory models. Is it legal for apple to hide such an important thing from users (I am not sure if it is mentioned in t&c)?
It was actually us that first made that discovery back in October - the memory used in the 32GB version is much slower than the one the 128GB iPhones get. In our test the write speeds were nearly 8 times slower. It certainly is legal as there are no laws mandating that makers should announce memory speeds of their smartphones and almost no maker actually does that, so we can't be sure Apple is the only one doing this.
It's certainly not a very ethical way of doing things, but it's not like Apple promised everyone storage that can achieve a certain speed. The good news is that it doesn't seem to affect the user experience that much, so besides the bad feeling that being treated like a second-rate customer inevitably gives, it's not too big a deal.
Anonymous: Why are mobile companies not making high-end under 5 inches except for Apple? I am interested in buying an Android phone and was wondering if the Sony Xperia XZ Compact is coming or if it's just a rumor ?
Ah, we've been there - we even had a petition to see if many of you, our readers were on the same page. Compact and powerful Android smartphones has been a severely underserved niche and we'd love to see more action there as well.
But now let's try and answer your questions why. There are two reasons - the first one is that it's simply easier to make a flagship large as it gives engineers much more volume to work with and lets them squeeze a bunch of extra hardware that enables many of the features that we would expect from a flagship device.
Consider this - the camera module is the same size reardless of how big your phone is, but proportionally it takes much less space on a phablet than on a 4" smartphone. Same with chipsets, DACs and most of the other internal components. There is also the matter of cooling, which is easier to solve when you have a larger area to distribute the heat to.
There's also the matter of battery life - while a larger phone requires its battery to grow bigger just to make up for the larger screen and its increased consumption it still has an advantage there. You see the standby consumption is about the same regardless of the size of the phone - so a larger battery large phone will last much longer than a smaller phone with proportionally smaller battery.
The other reason is consumer demand - larger phones are so much better for browsing, gaming and multimedia consumption so understandably the demand for them is rising. In a poll on the ideal screen size we had last year - over 80% of you wanted phones larger than 5". About 30% of the voters actually wanted at least 5.4". I can bet you any amount of money that if we were to repeat that poll now the votes will have shifted even more towards the larger sizes.
So combining the higher R&D costs of a smaller flagship with its lower expected market demand means most companies don't even bother developing them.
All that said, Sony deserves credit for releasing a few very capable Compact flagships, most recently the X Compact. Those all did excellently in our reviews so you still have some options there. Unfortunately, nobody but Sony itself can tell if an Xperia XZ Compact is on the way, but fingers crossed we'll see it at some point this year.
Anonymous: Why isn't GSMArena having a feature every month telling about which phone is best to buy under each category?
We actually have that - it's not a monthly feature but we do a shopping guide every once in a while when we see that the market has changed enough to warrant a new edition. Last one came at the end of last year and we'll certainly release a new one once all the MWC announcement hit the shelves and we get the full picture.
The main reason we are not doing these more often is the research required to make them useful is substantial and would divert resources from the reviews. We feel giving you detailed reviews and then letting you decide which smartphone in your budget best suits you is more useful than just putting up ready-made lists. And again, once we see a big enough shift in the market like the one we are about to witness over the next month and a half you can expect a new installment in the series.
Kristen: The Moto G5 Plus offers the same rear camera setup as the Samsung Galaxy S7 (excluding OIS). What are your thoughts on it?
We haven't had the phone at the office yet so any conclusions and final verdicts at this point might sound extremely foolish once we see how the final product does in all the tests. Still, early samples from the camera that we took at the MWC floor look promising, if not quite Galaxy S7 grade. Here's hoping Lenovo used the extra time until the market launch to optimize the processing so the final units are actually able to match its high-flying colleague from team Samsung.
And the phone in general looks pretty promising too - a decently capable yet power-efficient chipset, stock Android Nougat and a battery that's plenty big for its size. What yours truly failed to mention, though, is how ugly the back side looked. Not that front is particularly pretty with its huge bezels, but to me none of the elements at the back work together. I guess looks will always be a matter of personal preference though and there's always the option to slap a case on it and save yourself the eyesore.
Jesu: I want to buy a Galaxy Note phone. As the Note7 is not an option is it worth buying the Note5 or it's better to wait for the next one to come out?
This is a tough one - the Note7 fiasco really put the numerous Note series fans between a rock and a hard place. You could either settle for last year's version or make do without the S Pen and a slightly smaller screen on the Galaxy S7 edge. The wait for the next Note won't be a short one either - at best it will take another 7 months to arrive.
The good news is Samsung is likely to bring back a slightly downgraded version of the Note7 to the market - these refurbished units will come with a smaller battery, but they should still be better than the Note5. We are yet to see how much they'll cost and if they won't bring any other corner cuttign. Still, unless there are other nasty surprises those should be the best options for Note fans that don't want to wait until Fall for an upgrade.
Alternatively, if you can leave without the Note exclusive goodies there are plenty of capable phablets in the market - the Huawei Mate 9 and LG V20 are both purchases you are unlikely to regret, while the Xiaomi Mi 5s Plus is there for those on a tighter budget.
Anonymous: Can you explain how you calculate battery endurance rating and also can you add standby time to the endurance chart?
We've described the test in detail over here, along with most of the other tests we perform. What we do is calculate the endurance for the four tests (call, web browsing, video playback and standby) and then add them to a formula that by default would give us the endurance if you do an hour of calls, an hour of browsing and an hour of video per day with the phone being on standby for the rest of the time.
However you can use the sliders over here to customize the usage pattern so it's closer to your personal one and get more relevant results.
The reason we don't add the standby test to the endurance chart is that it confuses more people than it helps. Those that believe it's important to know can use simple math to calculate it using the numbers provided, but a modern day smartphone is not meant to spend a week on standby without being touched so we believe the number isn't really relevant. Instead we believe the endurance rating, while artificial on its own gives you a better reference point when comparing battery life between phones.
If you have any questions for us - you can send them by using the form over here.
D
imx400 is good for 2 sec slomo but bad in low light
f
Re: compact phones, check out Walletphone, the phone I designed for ZTE's CSX project last year: https://docs.google.com/presentation/d/1YbBOcBo0hTMIYHufCKGSax5ki6DHZrkwrio-XTcUw2c/ The idea is pretty simple: a midrange (e.g. SD625) OLED p...
R
no update for nougat. last update will be a marshmallow
ADVERTISEMENTS