We are at the Mobile World Congress in Barcelona which officially launched on Monday. The Chinese smartphone company Meizu didn't have a new device to showcase at their booth but instead introduced Super mCharge - a technology that will top up your phone's battery from 0 to 60 percent in mere 10 minutes and will charge it fully in 20 minutes.
Super mCharge is the fourth generation charging technology of Meizu and this time it uses a high-voltage, direct current (HVDC) electric power transmission system. According to the company, the charger is rated at 11V/5A so it can transfer up to 55W of power (which is insane). For comparison, the fastest current implementations we've seen so far max out at 25W or so (Oppo's VOOC, Moto's TurboCharger, if you are curious).
The company has also upgraded the USB cable that comes with the charger - it should be good for 10,000 insertions and can bear up to 160W of electricity (20V/8A).
Meizu claims that a battery charged using the new technology will still hold 80% of its capacity after 800 charge cycles, which means more than two years of normal use.
The big question after seeing all these numbers is won't the device melt right away. Meizu says the Super mCharge makes use of only 2 groups of conversion circuits, meaning the charging efficiency has been improved by 9% compared with the previous gen mCharge and now sits at 98%.
The maximum temperature the battery reaches while charging is 39C/102.2F degrees, which is not bad at all and means you should be able to continue using the device comfortably even when it's hooked to the wall.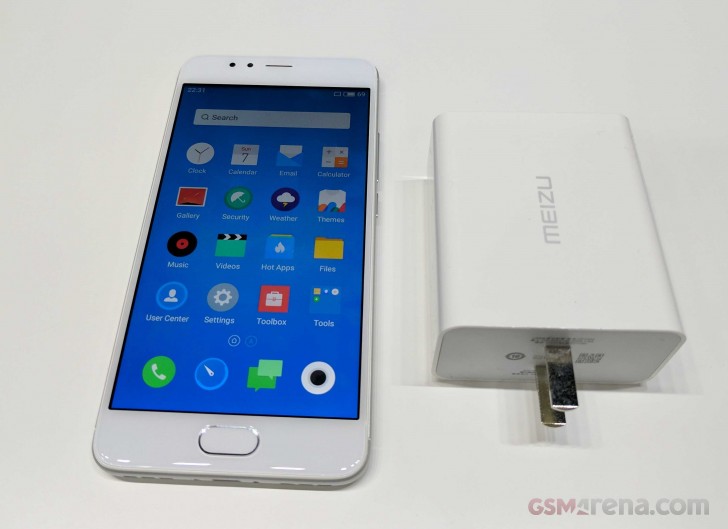 Since we were at Meizu's booth, we managed to compare the charger next to a 5.2" Meizu M5s - heck, this thing is huge. There are laptop chargers smaller than Meizu's but surely they can't top the notebook's battery in just 20 minutes.
The real caveat of Meizu's new Super mCharge is that we won't see any devices using the new technology for at least another 1 to 2 years. Teasing us with new tech we can't have yet ain't gonna do you any favors, Meizu!
R
This will boost Meizu pocket twice for sure. Great innovation! Next year ibelieve that iPhone will bring iCharge and it can boost from 0-100 in 100 (still 1960mAh).
?
Dude read the article.. They already tested the stress on the batteries and the battery still retains 80% charge after 800 cycles of quick charge or ~2 years of usage.. Duh
?
Dude read the article.. They already tested the stress on the batteries and the battery still retains 80% charge after 800 cycles of quick charge ~2 years of usage.. Duh
ADVERTISEMENTS