Survey says Apple Pay is the most popular mobile payment method in the US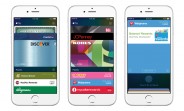 There's no denying that when Apple does something, it usually sticks around, and Apple becomes associated with it. The best example of this is the mobile payment business: While Apple was not the first one to provide a widely available mobile-payment service in the US, it is certainly the most popular one these days.
Boston Retail Partners surveyed more than 500 of the top North American retailers about mobile payment services and whether or not the retailer currently accepts, or will accept the form of alternative payment in the near-future.
36% (up from 16% just last year) of retailers surveyed say they currently accept Apply Pay while 22% of them said they are expecting to accept Apple Pay in the next 12 months. 11% of them expect to accept it in 1-3 years while the remaining 31% are marked as following a "wait and see approach".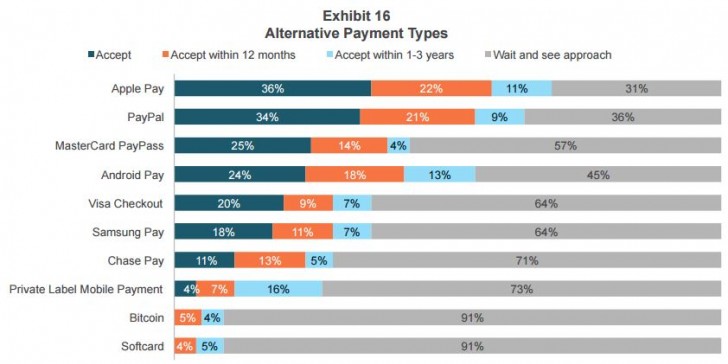 Source: Boston Retail Partners
PayPal was initially the top "Alternative Payment Type" just last year. Today, it placed second, behind Apple Pay with just 34% of surveyed stores accepting PayPal. In third, fourth, and fifth place are MasterCard PayPass, Android Pay, and Visa Checkout with 25%, 24%, and 20% of surveyed retailers currently accepting these payment methods, respectively.
Samsung Pay is down the list with 18% of retailers saying they accept Samsung Pay. Given that Samsung Pay uses MST that can simulate the magnetic strip reading on a card machine, Samsung Pay should be at the top of this survey. This is not the case because of something that the research company pointed out:
One of the critical factors for any mobile payment success going forward is education. We have found repeatedly that not only are consumers unsure of how and when mobile payments can be used but, even more telling, associates are unsure,
It's true that many US retailers likely don't know how mobile payment methods work and which equipment is required to accept which payment methods, much less the employees. This is where point-of-sales vendors should make an effort to better inform merchants of mobile payments and the proper ways to accept them.
D
every one knows samsung pay is the top as its supports Majority of readers, i do accept in some places store associate says it wont work , but after i say it will and tap , then see a oh !! Also the only pay which gives rewards and can buy with tha...
K
You're right, Samsung pay is the best by a wide margin, solely because of MST support, but..... The title of the article is "most popular", not "best".