The average American teenager is more likely to own an iPhone than ever before. The latest survey performed by investment firm, Piper Jaffray. The survey asked over 6,000 American teenagers across 40 different States about their smartphone preferences. The teens were of an average age of 16.
82% of the teens asked owned an iPhone while 11% were team Android. These numbers were recorded in the first quarter of this year and the numbers have steadily increased over the last few years with the latest numbers the highest Jaffray ever recorded. Meanwhile, 84% of teens said they anticipated their next device to be an iPhone.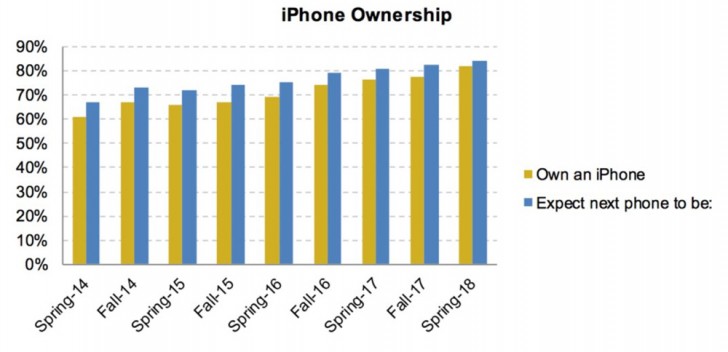 Source: Piper Jaffray
As the numbers show, the Apple iPhone is very trendy among high school students in the United States. It's been a while since any of us were in high school, so the kind of smartphone you have is very likely to come across as a status symbol. We'd imagine it's probably like a blue bubble vs green bubbles ordeal (whether or not you have iMessage). Of course, this only represents a particular age demographic since the total market share in the US for iOS smartphones is teetering just around 45%, according to Statista.
The survey also conducted that 15% of teens had an Apple Watch while 20% of them planned to buy one in the next 6 months.
?
I like to make clone Make Clone
J
That´s such an unecessary and overexaggerated generalisation to say all iPhone users are primitive and incompetent - it´s like me labelling all Android users as ignorant as yourself just because of your naive comments. It´s all...
?
For example: https://medium.com/@dkugappi/the-ios-11-files-app-sucks-e3a6e36dbb99
ADVERTISEMENT