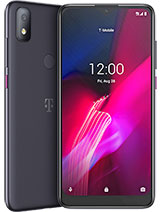 ?
Sean Atlantic, 11 Dec 2020Worst phone I've ever had, glitchy, internet and text messaging chooses when it wants to ... moreI agree. Glitchy. Stopped ringing... I finally had to go into settings and redownload my ringtones and notification in the sound section...it had cleared them...that made me delete my last 3 apps That I added...smh...now it won't charge over 54, percentage
J
Why can't I just dial a one time phone number w/o having to add a contact?
?
It's not a bad phone except for the fact you can't really customize it the way you want and it does have a slow system should definitely fix it
I2
I got this phone from metro PCS by T-Mobile. I had an Alcatel for back in 2014 I thought was the worst phone ever this one tops it beats it it is the worst piece of garbage I have ever had. The only reason why I got the phone is because my previous phone was stolen and all I could afford was this one to be able to have enough gigs in it. They were selling it for $149.99 back then this was just back in October of 2020. I now see you can get it for less than a hundred. But for now a phone like this I can see it being this much of a garbage phone because it did come from metro. For some reason right now my phone is stuck in demo mode and I can't do hardly anything at all scroll barely works and nobody at metro knows how to work on this phone to even fix it. And since my plan goes through metro I have no choice but to go through them to find out anything else. T-Mobile won't even help me even though that metro is part of T-Mobile. I would never ever go to T-Mobile one day prices are too high, too they don't really guarantee anything and if they do guarantee it it takes two to three months to get anything done.
A
Mediocre... basic features, nice big display, finger print recognition. So far i've had it two days and the google maps guidance almost got me there, it locked up about 5 miles before destination leaving me clueless as where to go....it happened not once but twice so far....wouldn't be so bad if this wasn't Atlanta and every other street is named peachtree.
S
Worst phone I've ever had, glitchy, internet and text messaging chooses when it wants to work and when it doesn't. Sometimes doesn't even ring and drops calls. Terrible.

?
joe nodden, 03 Oct 2020Oh my god it's terrible.Then why'd you buy it?
2875
423
Oh my god it's terrible.
Total of 11 user reviews and opinions for T-Mobile REVVL 4.
ADVERTISEMENTS