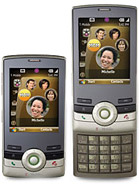 Y
Yasir, 23 Dec 2008I was looking either tmobile shadow or samsung behold just bought behold...nothing against sh... moreplease don't confuse my samsung behold review to tmobile shadow
Y
I was looking either tmobile shadow or samsung behold
just bought behold...nothing against shadow looks like a good phone...but if some1 in similar situation
READ below...

I have read reviews and searched on youtube about BEHOLD. also goto local tmobile store and play with it to get the feel...

Now i own it and very happy with the phone...I just want to share hands on experience as some ppl would be strugling to find out as i was 2wks ago. Hope it helps

=====REVIEW=======
text msgng--- easy and great!

camera------- Probably the best than any other phone.

wiFi-------- No but can check yahoo mail,sports news,cnn news (limited) for free

3g net plan-- capable, but i don't have it (no comment)

touchscreen--- user-friendly and easy

battery life--- very satisfactory

sound quality---better than older samsung phones

FM/Radio----- haven't discovered yet. if any one find out please share.
(with other ppl reviews, it seems like Behold doesn't support FM/Radio)

------------CONS------
No Windows operating system
No FM/radio??
No WiFi

_____________________

This phone is definitely recommendable... I am very happy with this phone and still discovering....
a
i've had the phone for about a month and a half and i think that it's a cool phone. i've done my homework on this phone and it works out really well. the features are great, the gps really works. but i think the live search needs more choices on theatres. the battery life is really low but it's great since it comes with an extra battery. but one batter lasts about two days, when u txt and listen to music. that's all i can say so far.
?
Ive had the shadow for 8 months now.....all i can say is that its a great fone, with so many features,plus a beautiful design, however there r some disadvantages.
First, the battery life is particularly short with using IM or txt msging. Second, the turn wheel is not really effective. Third, the camera is realy slow for taking pics.
yet...im a huge fan of HTC nd still im planing to keep my shadow till something comes out there that hs stuff that my shadow cant do!!
?
I've had this phone for almost a month. I HATE this phone. This is the only phone I have ever hated. It does have many, many features, but they are a pain in the a$$ to use.
The only good thing about this phone is the exceptional reception.
R
Hello all

I get "SHADOW Unlocker" for HTC Juno T-mobile, but the problem is i cant find "UNL" file for my phone.

Please can somebody help me about this problem.?
s
can someone help me on how to change xt9 to abc in writing option
thanks
?
BEN10, 05 Nov 2008how can i get softwear for the shadowDude go to www.xda-developers.com there you will find a ton of apps and new roms for your phone!!!! Its under the phone called Juno. this is where i go for my t-mobile wing software!!!1
E
You'd be surprised at what this phone is capable of doing. It's a smart phone that will suit people btw the ages of 21-29 who are curious to cross over to the smart phone world.Bluetooth connectivity is awesome as it supports A2DP, The built in WLAN adapter is strong enough to find WiFi signals at long distance ranges,the screen is bright and still visible under direct sunlight,and it is very customizable.One UNFORTUNATE thing about the shadow is 'windows mobile'.The speakerphone is also terrible as people could hardly hear me when speakerphone is activated; but the sure type keyboard is beautifully laid out. I had the copper color and for some weird reason each time windows mobile freezes and I take the battery out, it stops recognizing my....wait for it...MY SIM CARD!!! T-Mobile replaced it three times and they all did the same thing. They finally put me on some exchange program and sent me a BlackBerry 8120 Titanium Pearl.I'm really an HTC fan and I applaud their innovative minds but some bugs still need to be fixed on this beauty!!!!
B
Anonymous, 04 Nov 2008im getting my shadow soooooooon =)))))how can i get softwear for the shadow
b
k3n1, 28 Oct 2008yay!!! im first. kenwyn from grassy park, capetown. cool phoneI lost my softwear that came with my phone i got a new computer where do i go to download the softwear for the shadow
Total of 53 user reviews and opinions for T-Mobile Shadow.