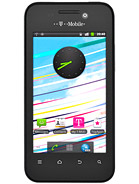 E
Is the batery good enough for this phone?
How long does it stay in life while listening to music?
And does it have good loudspeaker?
Thanks!!!
t
hey does someone own this phone.. can you share your experience and a question does it have multi touch thanks :D
s
low price with full of spec. u cant get better then that, its perfect hand set.
?
Micah Sanders, 26 Nov 2011Is it unlocked or just works with T-Mobile Networks?Locked to T Mobile Network. 800 GHZ processor and 5mp, fantastic value for money.
D
HSPA+ ,,This is pretty good spec at this price ,,wonder price on pay a s you go..??
G
WAW! Having the monster S2 with 1650ma!!!
All i can say is that this damn phone will surely have a remarkable battery life!!! (screen 3.5" with probably 1 modest cpu)
a
a blatent iphone 4 clone. see its not just samsung, who rips of apples design. shame.
Total of 75 user reviews and opinions for T-Mobile Vivacity.