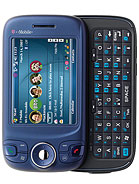 a
plz anyone tell me ebout setting of ring tones.alternative,plz.Thanks in advnce.
k
does anyone have and cool or scret thing they found out about this phone that they want to share?
P
I am using the phone.its xtremely awesome.very nice feaures.really worth having.
M
i live in Egypt , and i have a problem in this phone , the screen is not working after some water touch the screen and i don't know where i can solve this problem . there is no T-mobile guarantee here in Egypt. i asked if there is any place or no please inform me my mail michael.nagy@dashsoft.com
s
hi! wanted to know if this T-mobile is useful for business and office used? Is windows microsoft well activate?
pls.. let me know, because, i want to give present to my husband. hoping to hear from you.
thank you,
shann
?
harilal, 07 Nov 2008anybody who aint talk good bout dis fone dey like boysThere's no need for that! This phone is good but the memory is extremely low!!! You can only get a couple of programs before the phone starts to slow down considerabley. Wait till the Wing 2 comes to T-mobile!!!
Total of 49 user reviews and opinions for T-Mobile Wing.