Final Words
This edition of our tablet guide saw the departure of some of our old favorites, the Nook HD and Nook HD+. B&N replaced them in the form of the just-announced Galaxy Tab 4 Nook, which is basically a rebranded Samsung Galaxy Tab 4 7.0.
Although the Galaxy Tab 4 7.0/Nook are capable (and affordable) offerings in their own right, we instead recommend the EVGA Tegra Note 7, a device several of you pointed out in the comments section of our previous guide. With the same screen and an ultra-fast quad-core Tegra 4 processor, the Note 7 is a top compact tablet, especially at the sub-€200 price range.
Elsewhere, the Samsung Tab Pro series pricing continues to drop, with both the 8.4-inch and 10.1-inch models being easy recommendations over competing offerings in the form of the LG G Pad 8.3 and Google Nexus 10. The newly-introduced Galaxy Tab S models are still fairly expensive, and we simply can't recommend the extra €200 for the Tab S 10.5 over the Tab Pro 10.1, considering all you're getting is the same resolution display except of the Super AMOLED variety and an extra 1GB of RAM.
The gorgeous LG G Pad 8.3 didn't make the draft this time as its premium pricing has been steady for quite some time while other worthwhile tablets such as the Samsung Galaxy Tab Pro 8.4 have dropped to more enticing price points.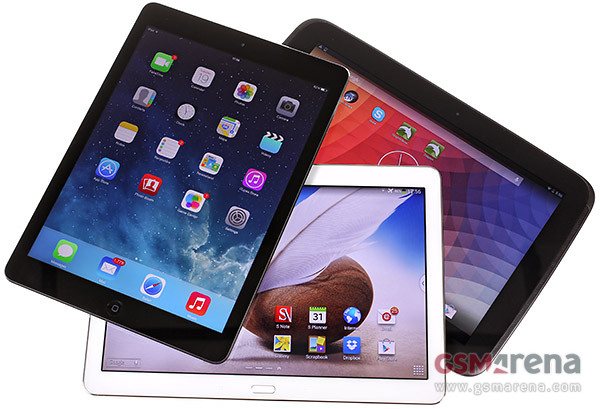 We are no longer recommending Windows RT tablets. The reason behind that is that the Windows RT platform has been made irrelevant by the relatively low number of available apps, the pressing competition from fast and capable Android tablets plus the influx of new tablets, running the proper version of Windows on Intel's new Bay Trail architecture.
Without undermining the importance of these full Windows tablets, we've deliberately left them out of this article. These tablets generally are outside of our main expertise as they are pretty much straightforward Windows computers. Their low price points however allow them to inevitably come up in the conversation whenever tablet purchase is considered.
Some of the more notable products on the market of this sort include the mid-sized Toshiba Encore 8, the Lenovo Miix 2 8, the Acer Iconia W4 and the Dell Venue 8 Pro. All three of them have 1.86GHz Intel Atom Z3740 chipsets with Intel HD graphics, 2GB of RAM, 1280 x 800px screens, front and rear cams and run fully-fledged Windows 8.1.
Among the 10-inchers most notable are probably the 10.1-inch Asus Transformer Book T100, the Aspire Switch 10, Lenovo IdeaPad Miix 2 . These come with detachable keyboard docks, which can even host an optional 500GB HDD in some models. All three except the Asus Transformer Book T100 offer Full HD screens as well.
When choosing one of these newfangled Windows tablets, bear in mind that their cheaper 32GB versions already have most of the storage taken up by the system files, so there is hardly any room for installing additional applications (hardly more than 12GB of user-available storage). The microSD slot is great for storing your multimedia files, but not so good for apps, so the 64GB version is probably the minimum you should be looking at there.
A noteworthy new addition to these Windows tablets is Microsoft's own Surface Pro 3, a 12-incher with a resolution of 2160 x 1440px. Just over 9mm thin, it weighs only 800g and has a built-in multi-angle kickstand. This one really stands out, as unlike the other Atom-based tablets, it's powered by Core i3, Core i5 and even Core i7 processors. The Surface Pro 3 is now available, but the cheapest option, the Core i3 with 64GB of RAM, will set you back €800, and that's without the keyboard dock. The Surface Pro 3 is an example of why full-fledged Windows tablets are simply in a class of their own, and would be more suited for a Laptop buyer's guide than anything else.