The GSMArena tablet shopping guide: December 2013
Not that a disclaimer is needed but the timing of this article is purely coincidental. Helping you decide what gadget to buy is what we've been doing for over a decade, and not just around the Christmas holidays. So, there we go, simply following up on our smartphone shopping guide, with a similar piece on tablets. Whether it's a low-cost compact slate for a stocking stuffer, or a full-size powerful performer to let you start off the new year with a bang, everyone wants to know what the best deal is.
We've divided our tablet recommendations into three distinct categories: compact, midsize, and full-size. And since tablets generally come in both WiFi-only and 3G/LTE-enabled variants, we've split each section accordingly.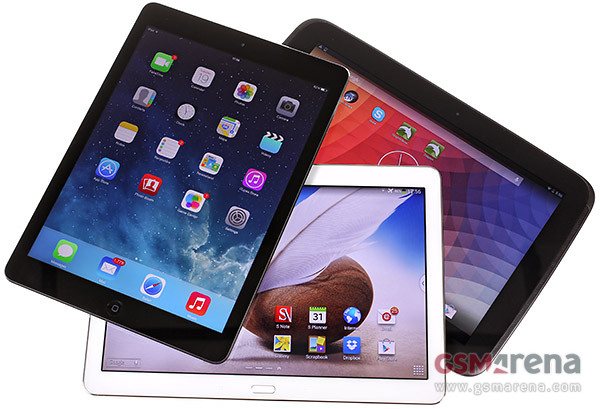 We get things started in the compact tablet category, which has seen an especially large amount of activity in recent months thanks to offerings like the Google Nexus 7 and the Apple iPad mini with Retina display. Compact tablets are growing in popularity not only in casual living room environments, but also out in the open and even in corporate scenarios, thanks to their versatility and portability.
Moving on, midsize tablets are for people who want a bit more screen estate, while still retaining the mobility of compact offerings. What exactly constitutes a midsize tablet will be different for each individual user, and can vary anywhere between 7.5"-9". We'll give you plenty of choice when it comes to finding the right combination of size, features, and price.
Finally, full-size tablets are those that touch or cross the 10" mark. This is where top manufacturers like Samsung, Sony, and Apple will duke it out for dominance, with great deals like the Google Nexus 10 sneaking in, unseen but not unnoticed. Some of these tablets are just a keyboard away from compact laptop territory, so be sure that is the way you want to go when you're considering your options.
For each section, we order our recommendations starting with the cheapest, most worthwhile tablets available from a reputable manufacturer. While so-called "whitebox" offerings from lesser-known manufacturers are surging and account for a huge amount of tablet growth over the past couple of quarters - particularly sub 8-inchers running Android - their low cost oftentimes comes at the expense of getting lower performing components and simply don't offer a reliable and consistent user experience (let alone future support updates).
On the next page we get started with our compact tablet recommendations, or you can jump right to what you're looking for using the links below:
We'll be keeping this guide up to date, so be sure to check back regularly to see what new recommendations we come up with.
D
nexus7 and ipad air are the best choice
D
Can you please tell me your Budget so that we may find a Good Device for you