Final Words
The developments in the tablet market over this past couple of months are not major, but they are still interesting. For one, Samsung has a whole new Pro range that sells for more money than Apple's range of iPads. That's certainly a change few had expected. Hardly anyone else but Apple can afford such a steep asking price.
We tried to leave out most 10-inch tablets with 1280x800px resolution even though some of them, like the Samsung Galaxy Tab 3 10.1, are among the current bestsellers. This may come as a surprise to some, but 1080p slates backed with enough processing power to carry the resolution have fallen down in price and we no longer find the compromise worth it.
And finally, this is probably the last guide where we are recommending the Windows RT tablets. The Windows RT platform is been quickly made irrelevant by fast and capable Android offers on one side and the influx of many compelling tablets, running the proper version of Windows on Intel's new Bay Trail architecture on the other.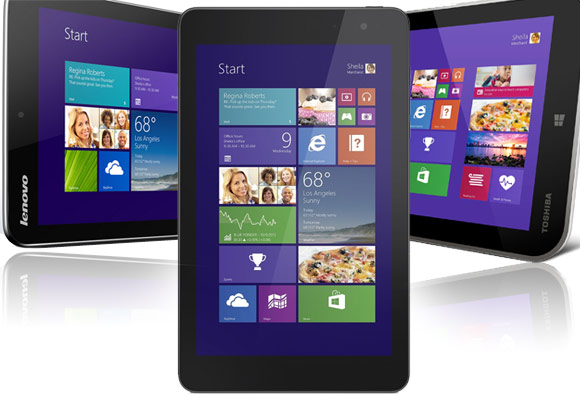 Without undermining their importance, we've deliberately left them out of this article. These tablets generally are outside of our main expertise as they are pretty much straightforward Windows computers. Their low price points however allow them to inevitably come up in the conversation whenever tablet purchase is considered.
Some of the more notable products on the market of this sort include the mid-sized Toshiba Encore 8, the Lenovo Miix 2 8, and the Dell Venue 8 Pro. All three of them have 1.86GHz Intel Atom Z3740 chipsets with Intel HD graphics, 2GB of RAM, 1280 x 800px screens, front and rear cams and run fully-fledged Windows 8.1.
Among the 10-inchers most notable are probably the 10.1-inch Asus Transformer Book T100 and the HP Omni 10. The Asus Transformer Book T100 comes with a detachable keyboard dock, which can even host an optional 500GB HDD. The Asus tablet however lacks a camera on the back and the otherwise good 10-inch screen has a resolution of only 1366 x 768 pixels. The HP Omni 10 is a bit cheaper, has cameras on both front and back and comes with a FullHD resolution, but it lacks a keyboard dock eve as an option. Both of these have excellent real-life battery life of up to 10 hours.
When choosing one of these newfangled Windows tablets, bear in mind that their cheaper 32GB versions already have most of the storage taken up by the system files, so there is hardly any room for installing additional applications. The microSD slot is great for storing your multimedia files, but not so good for apps so 64GB storage is probably the minimum you should be looking at there.