After numerous recent rumors, the Tag Heuer luxurious mobile phone is finally officially announced. The oddly named Tag Heuer Meridiist is a high-roller fashionable handset and a perfect match of the Swiss-made Tag Heuer timepieces.
We must admit that its name sounds noble, but it's awfully hard to spell (maybe we should type it wrong intentionally just for the sake of scoring high on the inevitably numerous wrong Google searches, hehe). But we digress.
The Tag Heuer Meridiist mobile phone is made from watch-making stainless steel and has two unscratchable 60.5 carat sapphire crystal displays. The most notable achievement about the Meridiist is probably its battery life - besides 7 hours of talk time it is said to offer almost unmatched standby time of 672 hours (or 28 days). We wonder how it would manage to achieve those numbers.
The Tag Heuer Meridiist is armed with a 2 megapixel camera, a primary 1.9-inch display with QVGA resolution and a secondary OLED one with a resolution of 96 x 76 pixels. The secondary display is rather unusually placed on top of the device and is used for displaying the time (with Swiss precision, you can bet) and your incoming call ID.
The Tag Heuer Meridiist will also be available in several modifications of the back panel - leather, steel, plastic, etc. It's obviously not a feature-packed handset, but instead a piece of luxury - and as such it might just snatch some of the scarce Vertu market.
Now it might be interesting for you to know that the actual manufacturer of the device is a French company called Modelabs. They are also the manufacturer of the Levi's phone, which you might have seen.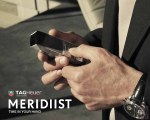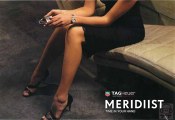 Tag Heyer Meridiist mobile phone
The Tag Heuer Meridiist mobile phone will be available in September 2008 in Tag Heuer boutiques and selected watch and jewelry stores. The price tag of the Meridiist will be somewhere along the lines of 3400-3900 euro depending on the chosen modification.
Source
m
that's very good !i like ! Mobile phones have become a necessary part and parcel of everyday life to facilitate mutual communication. In our online store, we sell cheap cell phones which are in high quality but at a low cost. Cheap phones can not o...
?
To whom this may concern....your decision to still stand behind the Tiger is one that I find offensive....for the obvious reasons...I personally own 2 of your fine watches...why would your company align itself with a person of poor moral character? ...
ADVERTISEMENTS