Target is running a promo for the Apple iPhone 5s and iPhone 5c until December 24. The first generation iPad Mini along with the latest iPad Air are also getting discounts for last minute Christmas shoppers.
The first part of the promo is only valid today and lets you grab the iPhone 5s for $149.99 on a contract, while the iPhone 5c costs you $50 and you will also get a $50 Target gift card. This means that the plastic iPhone comes to almost free.. If you don't count the two year contract, that is.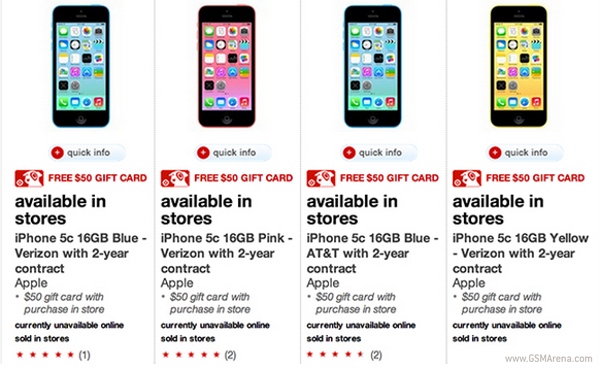 Target's second set of sales runs until Christmas eve and will see the iPhone 5c selling at $30 with a gift card worth the same amount. The pricing of the iPhone 5s is a bit higher than the current sale and if you plan to buy the device from December 22 to December 24 you should pay $179.99, but also get a $25 gift card.
Apple iPad Air is priced at $479 with a bonus $20 gift card. Lastly, if you are interested in the first generation iPad Mini then you would have to shell out $299.
You can check out the source link below to know all about the offers and maybe take advantage of them.
?
Pretty poor .. here in the UK all our Iphones come free with 75% of our tariffs
L
They just fail to see how it's going to cost them more in the long term. Freedom to be nearsighted! LOL!