The next BlackBerry smartphone will be unveiled next month, according to the company's CEO. He's also previously said to expect two cheaper offerings this year compared to the high-end Priv - one with a physical keyboard and one without.
That all-touchscreen model could be the one seeing the light of day in July, as it turns out. And TCL, the Chinese company best known elsewhere for making alcatel-branded phones, might be the one manufacturing it.
There's not a lot of evidence for this yet, however, and what we do have is mostly circumstantial, as they'd say. But bear with us. A TCL device with the product name DTEK 50 has been certified by the Wi-Fi Alliance, which is odd because DTEK is the name of the privacy suite that ships on the BlackBerry Priv. But wait, there's more! The model number for TCL's device is listed as STH100-2, which strangely manages to fully adhere to BlackBerry's way of using model numbers for its products (case in point - the Priv is STV100-1).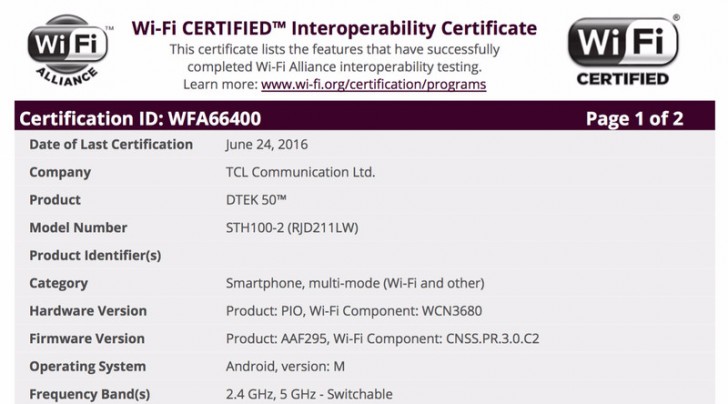 This is all corroborated, let's say, by an older rumor that claimed BlackBerry and TCL signed some kind of cooperation agreement a while back. That mumbling went on to say that the first result of this new partnership would be the smartphone we've known from past leaks as the BlackBerry Hamburg, which would apparently be based on the alcatel Idol 4.
The Hamburg will come with a 5.2-inch 1080p touchscreen and the Qualcomm Snapdragon 615 chipset, as revealed by a benchmark run. The Idol 4 has the exact same screen size and resolution, but uses the Snapdragon 617 instead. That said, all of the other specs of the Hamburg that were leaked through that benchmark result are identical to the Idol 4's.
So it could be the case that this new BlackBerry will be nothing but a rebranded alcatel Idol 4 with a different SoC. On the other hand, it might look different but be based on the same innards as the Idol 4. Or it could be a different phone altogether and the specs matching is just a coincidence. We'll know for sure next month.
r
Appreciated if I could select BB10 to run on it.. or if that product was capable of running either android or QNX.. let me pay for the QNX.. Why not.. After all I am willing to pay for the best technology with an affordable price tag.. This will open...
D
The next BB Android phone will be called a Chenzie
D
My next phone will not be a BB but a pure Android phone...much less expensive...currently own a BB LEAP
ADVERTISEMENTS