TCL announces new XESS home tablet, with built-in Amazon Alexa capabilities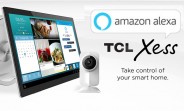 TCL, parent company of Alcatel has just announced its next-generation XESS tablet. We went hands-on with last years' model at CES.
The TCL XESS tablet is a home-oriented 17.3-inch Android-powered tablet with connected-hub capabilities. Like last year's model, the XESS comes with a network camera that you can set up in your home to check on the kids, pets, or whatever you want to keep an eye on while at home or away.

The tablet also comes pre-loaded with a kitchen recipe application, one that will provide you with recipes with accompanying video clips.
The XESS tablet also comes enabled for Alexa out of the box. That means that the XESS tablet can do everything the Amazon Echo can: control smart home devices, change smart thermostats, control smart lights, tell you the weather, sports scores, and ask general-knowledge questions like "how far is the moon", all with just the sound of your voice.
When we were showed the XESS last year, we were shown various gestures you could perform with your hand for hands-free interaction. These gestures are nowhere to be found in the press release or the product page. Perhaps the company thought it was too early (or too buggy) to promote the gesture navigation.
Specwise, the tablet runs a 1.5GHz, octa-core AMD CPU, 3GB of RAM, with 64GB of storage on-board. The tablet weighs 6 pounds, so it likely won't be something you bring with you onto an airplane. Also, the 17.3 inch screen has a 1080p resolution. Oh yeah, and the OS runs Android 5.1 Lollipop with TCL's home-oriented UI. A bit behind on software, especially for a smart home hub.
The XESS tablet will go on sale starting today on Amazon and can be purchased for $499 in the US.
T
For users and mainstream developers, what you said about Windows is nonsense. For them, to use a Windows or an Android tablet is practically the same, but with more productivity potential on the Windows side. Just take a look on how the average user ...
D
You assume that they have a choice,... THEY DON'T, period. It's either this, Linux (which very few average Joes and Janes use,) or Windows 10 (Which would be far more inflexible and cost more licencing and software-wise.) And don't say "Just make a n...
ADVERTISEMENTS