Meizu has been teasing its upcoming 17 flagship for the past few days and it has just revealed full frontal and backside photos of the device on Weibo.
The caption on Meizu's post translates to "Talented like you. An annual flagship that you can never forget at a glance. On May 8, the 5G flagship press conference of the series 17, 15 days to dream!" Yesterday the company revealed the phone's launch date of May 8.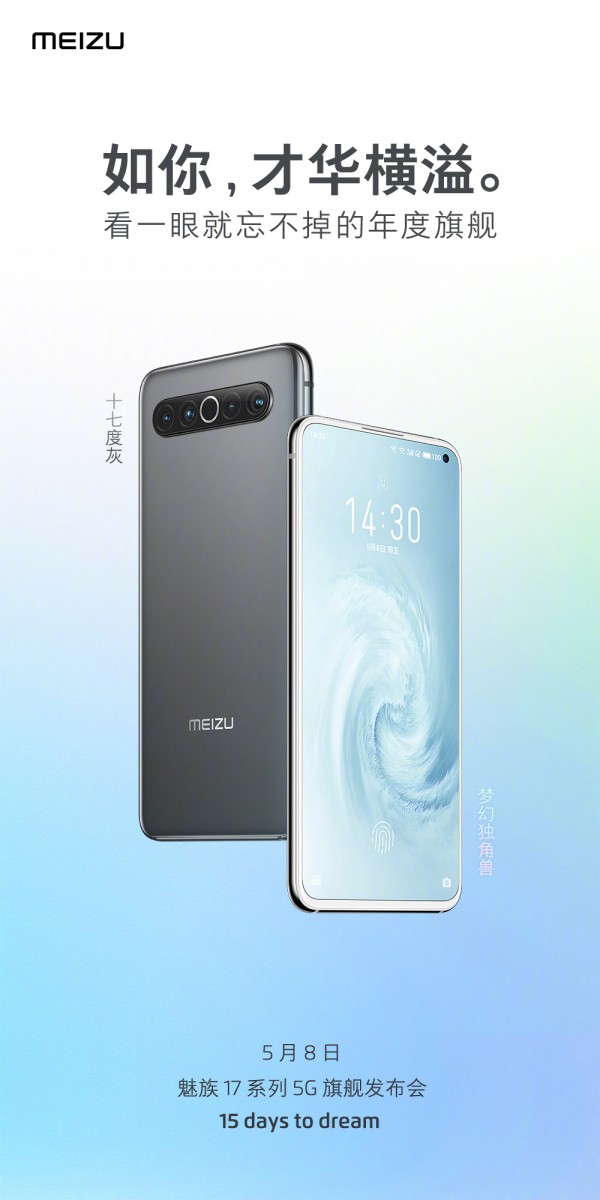 The camera setup of the Meizu 17 consists of four cameras, arranged horizontally, with a ring flash in the center. Although the back of the phone does have tapered glass edges, the front of the phone has a flat display. We also see the same white-framed display with a punch-hole in the upper right corner of the screen. The screen also has an in-display fingerprint scanner.
Meizu was one of the first companies to confirm its next flagship would include the Snapdragon 865, so we can expect to see this chipset in the phone - along with some teasers about that very fact. The display is believed to be of the 90Hz OLED variety, ad well as LPDDR5 RAM and UFS 3.0 storage.
A 64MP main camera is said to be the primary shooter of the quad-camera system, and there's supposedly a 4,500 mAh battery. Thanks to the X55 modem that comes paired with every Snadpragon 865 chip, the phone will also bring support for Wi-Fi 6 and 5G support.
Almost two more months ... feels like eternity :D Hopefully, they will release some info on Xperia 5 II by then. If it will be Xperia 1 II - only smaller, I am simply sold. It's funny Xperia 5 has same width as iPhone SE 2020 ... Xperia 5 II...
Hey I still don't agree with you on 4K and 120Hz. Let's leave it as subjective topic. In the days of netflix and amzon prime, 21:9 ratio is actually good. Sony has only taken that 1 step from 20:9 (currently almost all mobiles use this) Tho...
ADVERTISEMENTS